LATEST RIVIEW AVAILABLE

Read the May/June Riview, Vol. 32 #3, under "Members Only" click "Past Riviews"
PAST RIVIEWS ONLINE
30 years of the Riview, can now be viewed.
Under " Members Only" click "Past Riviews"
IN THE NEWS
Hemmings Daily
"Clamshell Elegance"
In the April 13th issue of Hemmings online Daily there is an article on the 1965 hidden headlights. Click here to view.
Hot Rod
June 2016
The California owner of a solid '65 liked the body lines and interior, but wanted to improve the ride and performance. The big changes were unseen. A LS3 long block create engine was installed, but disguised with the standard Nailhead valve covers and air cleaner. A Ford rear axle rated at 3.98:1 was fitted onto a 4L70 transmission. This issue should be available on the newsstand very soon.
Secrets of the Buick Nailhead
Click here to view this recent posting with interesting information on the evolution of the V-8 Nailhead engine.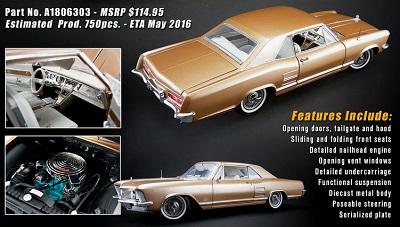 New 1:18 Model '64 Riviera from Die Cast Muscle Cars. This Bronze Mist model has a white interior and a detailed dual 4-bbl 425, along with opening doors and folding front seats. Scheduled for a May release, early orders are being accepted at $114.95. For details click here http://www.diecastmusclecars.com/riviera.htm
Hemmings Classic Car
June 2016

A Sunburst Yellow '64, owned by members Charlie & Sherry Ulrich is featured in the current issue of Hemmings Classic Car, soon to be on your newsstands. The detailed article with many photos covers four full pages.
Paypal and Secure Credit Card Payments for Renewals and New Members now online!