Click here to read the May 2020 issue of the informative Australian version of the Riview with stories on local Rivieras and much more. (PDF 2 MB).

---
Australia Event Recap
October 17-12, 2019, ROA Australian National, held in Adelaide, SA was a huge success. There were 26 Rivieras on display ranging from 1963-1978. A total of 52 people attended, consisting of 21 members and guests. Meet Planners Grahame & Terry Line organized three days of events and tours throughout the local countryside. Additional details and photos will appear in the January issue of their newsletter to be posted on the ROA website.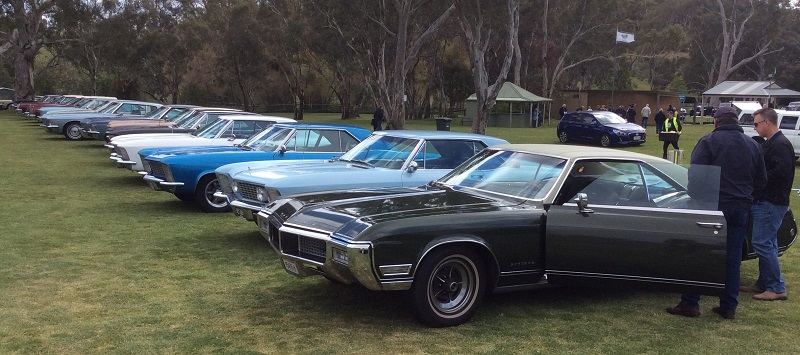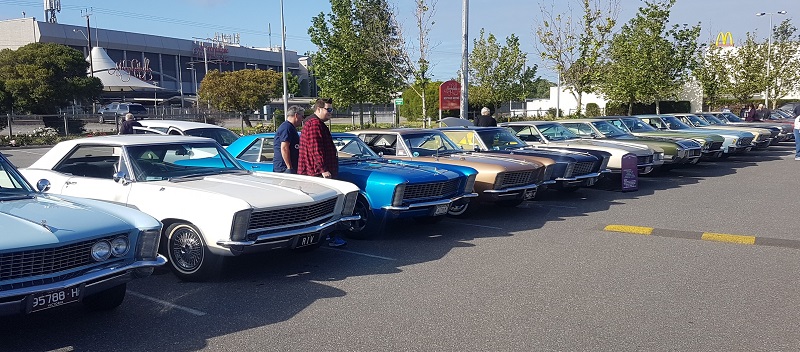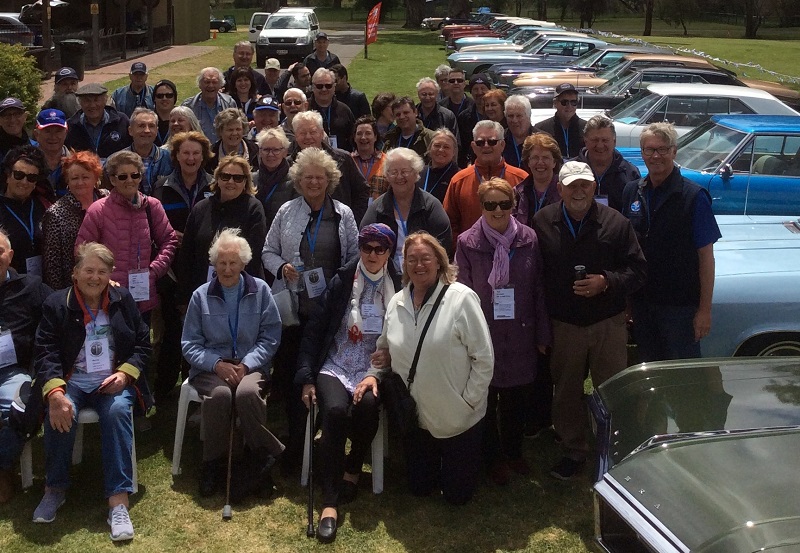 April 7, 2019, The Victorian Region of the ROA held a BBQ at the home of National Coordinator Tom Kunek in Riviera Lane, Blackburn.
14 beautiful Rivieras attended with about 40 attendees in brilliant sunshine. The star attraction of the day was a recently imported 1971 custom boattail fitted with full hydraulic suspension and high-power sound system. There also was a 1965 Riviera under restoration with plenty of advice by the owner on what to do, and what not to do during a restoration.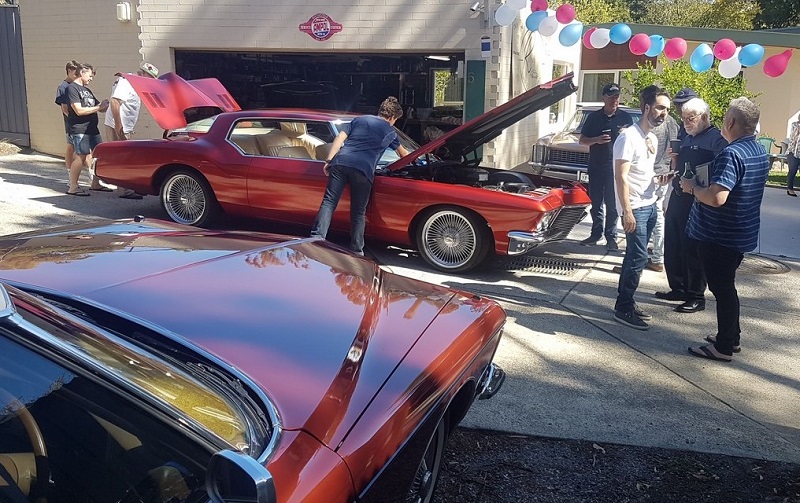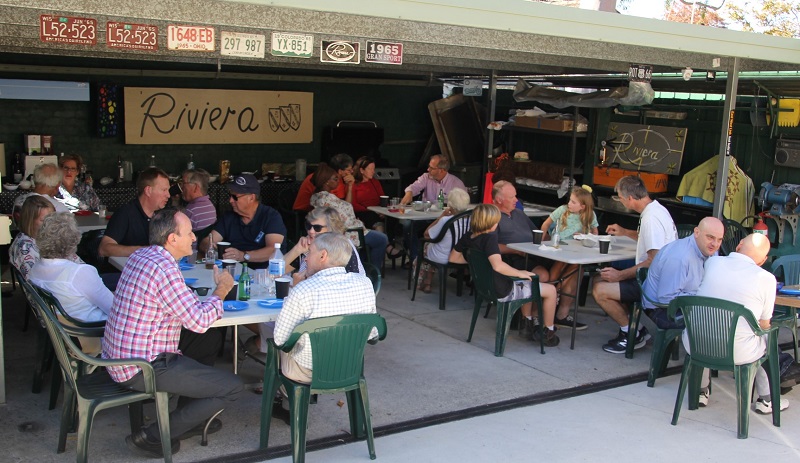 ---
San Francisco Bay Area
Steve Tangney 473
Pleasanton, CA
408-836-4543
stangney@wcselfstorage.com
CANCELLED May 17, 2020, Sunday, 8 am. ROA will join with the San Jose BCA chapter at the annual Friendship Day meet in in Redwood City. The event is located at #3 Lagoon Drive, across from the Oracle at Redwood Shores. Friendship Day is a locally sponsored informal car enthusiast gathering. No judging but usually some 200+ cars are expected in this its 45th year. We plan to meet around 8 am at a Starbucks near the event in Redwood City then caravan together to the show. Additional details and a flyer will be emailed to all Norther CA members. If interested be sure your current email is on the ROA Roster. If in doubt contact me at stangney@wcselfstorage.com
San Francisco Bay Area Event Recap
August 24, 2019, Members met at Ken Mercer Sports Park, in Pleasanton for an ROA BBQ Potluck Picnic. For our first event we had 19 adults who brought three children, and ten Rivieras. We provided the basics such as plates, napkins, condiments, ice chests with water bottles etc. Our long-distance member was Bruce Fraser, who drove about three hours from the Sierra Foothills area.
I think we all enjoyed the opportunity to gather and make new friends to share a common interest. There was a lot of interest in the cars and "tech talk" about maintenance, sourcing parts and services. It was a great opportunity to meet fellow members to share thoughts and questions. It was apparent that all were passionate about their cars. After the meal three of us cruised downtown to the Goodguys Hot Rod Show just a few blocks away.
We look forward to our next gathering when we will have the opportunity to meet even more of the members from this area. We will continue to send emails to announce future events. See you next time.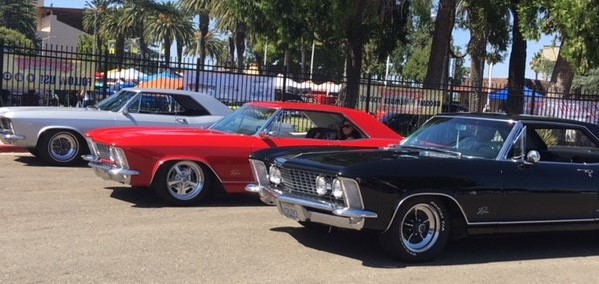 ---
SAN DIEGO, CA
Lee Carroll #433
P. 0. Box 87923
San Diego, CA 92138
(619) 226-6993
reidcarroll1@gmail.com


CANCELLLED due to COVID-19 April 18, 2020, Saturday, 10 am to 4 pm , ROA and BCA members will gather on the at the Deer Park Winery & Auto Museum in Escondido. View what is called the largest all Convertible Auto Museum in the world & to sample some of Deer Parks Award winning wines. Attendees are encouraged to bring a picnic lunch and use their shaded gazebo area with benches & tables.

We will be at the Deer Park Entry gate from 9 Am on to be sure our people get a waiver of the $10 admission fee and get directed to the staging area.

If you plan to attend, please give us a "Head's Up" @ 619-226-6993 or E-mail at reidcarroll1@ g-mail.com
Directions
From San Diego, take I-15 North to Deer Springs/Mountain Meadows Rd, turn right then make an immediate left turn to Champagne Blvd. Continue for 3 miles, Deer Park is on the right.
From Riverside, Los Angeles Get on I-15 South by way of 76. Exit on Gopher Canyon/Castle Rd. turn left under the freeway & turn right on Champagne Blvd. Continue 1-mile South & Deer Park will be on your left side.
San Diego Event Recap
October 26, 2019, A dozen ROA members from the San Diego area took a tour of the San Diego Air & Space Museum's annex at Gillespie Field The museum has become a major feature in Balboa Park. We enjoyed hearing about   San Diego's "Aviation History in Progress" and enjoyed a pleasant lunch at the Gillespie Field Café.
We learned that in 1927 Ryan Aircraft built the plane for Charles Lindbergh's non-stop flight from New York to Paris. During WWII Convair built the B-25 bomber & Rohr & Solar Aircraft built major airplane component parts.
The museum's aircraft restoration and reproduction program is staffed mainly by volunteers. The 46 Aircrafts on display ranged from 1884 gliders to an ICBM Atlas Rocket.
While 90 percent of the 70 or so volunteers are retired aircraft workers, younger mechanics and engineers are beginning to find their way to the facility. Students from San Diego State University, construction workers and even some high school students come to learn what previous generations accomplished.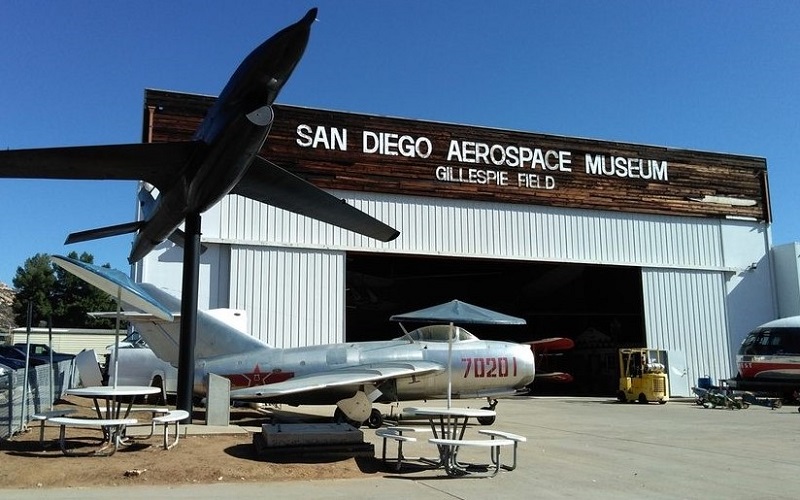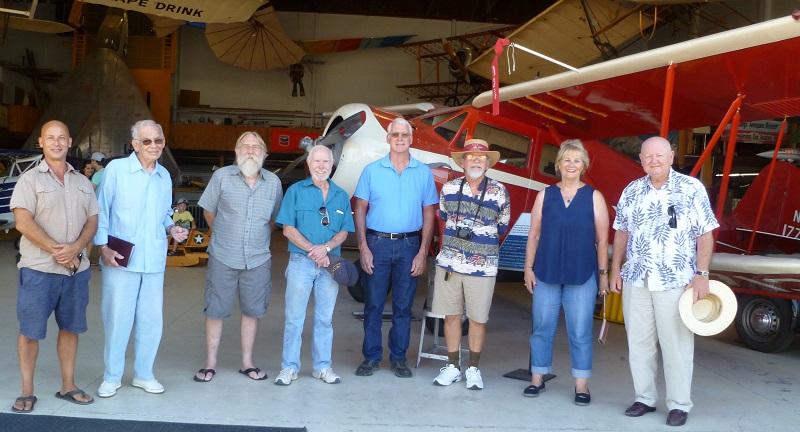 February 14th, 2019 Twelve members of the ROA joined us for a tour of the San Diego Automobile Museum. Pictured are those who attended and a custom '65 convertible owned by member Frank Dobbs.
---
COLORADO
Coordinator Position Open

CANCELLED June 20, 2020, Saturday, 10am – 3 pm, ROA members are invited to attend the its 9th annual All Buick Car Show hosted by the Rocky Mountain Chapter of the BCA. The show will be located at King Buick /GMC, 4175 Byrd Dr in Loveland. Free admission, free food, prizes, music, and fun. People choice awards in seven categories. For details contact Tim Gibson ROA #15614 at timgibson@q.com or 970-690-3658.
---
FLORIDA
Bob Wannall ROA# 3069
1101 SE 56th Court
Ocala, FL 34480
(352) 690-7729
bobwannall@gmail.com
Central Florida Event Recap
March 7, 2020, Fourteen ROA members and ten cars gathered for the annual Habitat Ocala Strawberry Festival Car Show in Ocala. A beautiful low mileage '68 GS owned by members Don and Linda Torrey placed second in the "Best GM" class. Also on hand for the show were Ralph Dunn driving his '77, Dee Scott, '71, Herman Tracey, '84 convertible, Dan & Nikki Hamilton,'82 convertible, Dave Messinger, '97, Richard Graf, '63, and guest Todd Hogan, Charles Courture, '65 GS, and Bob Wannall, '64 and '82 convertible.
Members came from as far as Jacksonville and Sarasota for what is a favorite event in our Region. Along with the show were crafts, vendor booths, entertainment, and even the Oscar Meyer WeinerMobile. We'll be back in the Fall when temperatures moderate and, we hope, the pandemic is long past, so watch for announcements.
Photos:
Don and Linda Torrey with their Second-Place award
Dee Scott's '71 with the Weiner Mobile in the background
January 18, 2020, Local members visited the Paquette's Historical Farmall Museum in Leesburg. It was an eye-popping collection of several hundred historic International Harvester tractors, trucks, and farm equipment. Indeed, they were setting up for a bit tractor pull a few weeks later. On hand were Eric Anderson ('77), Steve Brisbois (driving his '66 Wildcat convertible) Herman Tracey ('84 convertible), Ralph and Barbara Dunn ('77), and Bob and Cindy Wannall ("82 convertible).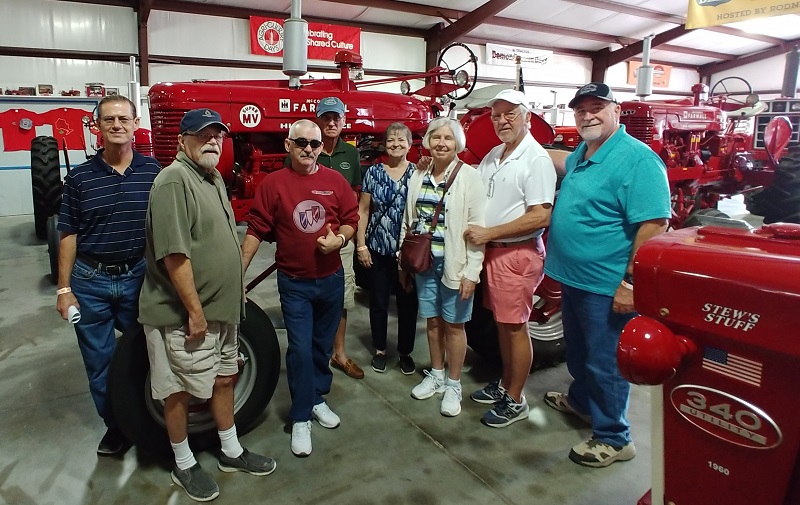 December 7, 2019. We had our own cruise-in at Yalaha Bakery, a legendary German bakery and deli here in Central Florida. Our small but hungry group enjoying the Rivieras, the pastries, and schnitzel were Herman Tracey ('84 convertible), Ralph and Barbara Dunn ('77) Jim and Gloria Meyers ('73) and Bob and Cindy Wannall ('82 convertible).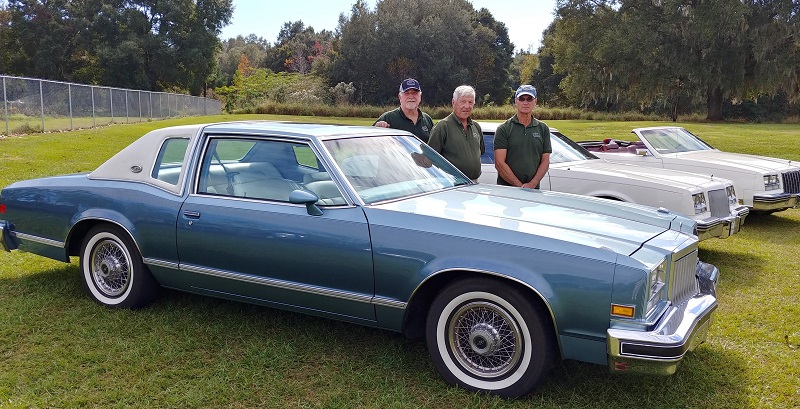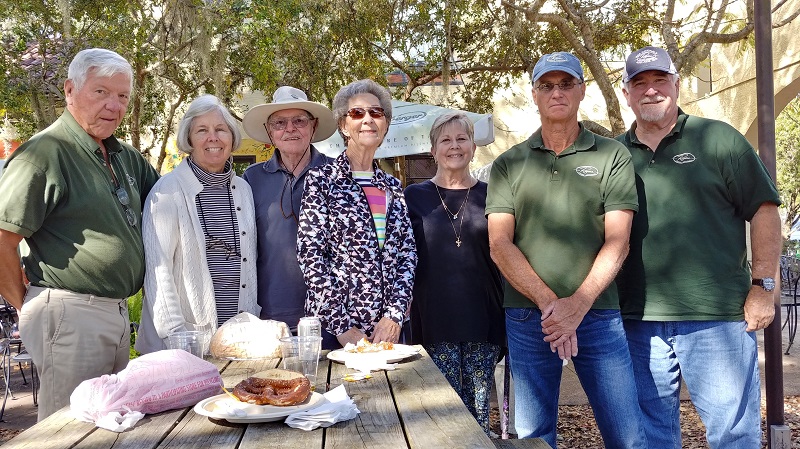 March 2, 2019 -The Central Florida Region ROA fielded a line of nine Rivieras, the most of any make, model or car club, at the Marion Country Habitat for Humanity Strawberry Festival. ROA members at the gathering included John Wheeler ('63), Ralph Dunn ('77), Jim Kilroy ('67), Charles Couture ('65), Frederick Ward ('65 GS), Nick LaBruno ('95), Steve Kouris ('95 convertible), and Bob Wannall ('64, '82 convertible).
John Wheeler's immaculate silver '63 won the show's Best GM award. A big attention-getter was Steve Kouris' 1995 convertible, one of six fabricated by a shop here in Florida that's doing huge business these days chopping the tops off Dodge Challengers. ROA members drove in from all over the state, with Frederick and Rosie Ward taking the "long-distance award" for bringing their '65 dual quad GS up from Miami. Every one of our Rivieras were stunning cars that attracted a lot of attention from the thousands of festival-goers. Plus, there was plenty of tasty strawberry shortcake to enjoy. The Habitat folks have extended a warm invitation to us to come back next year.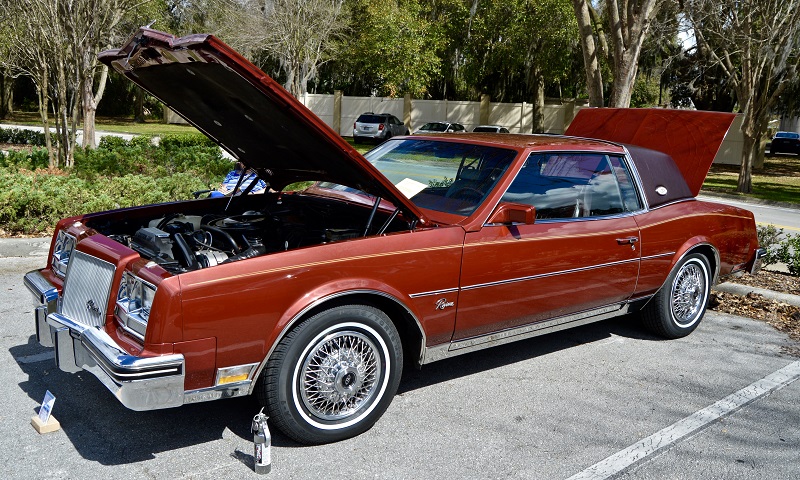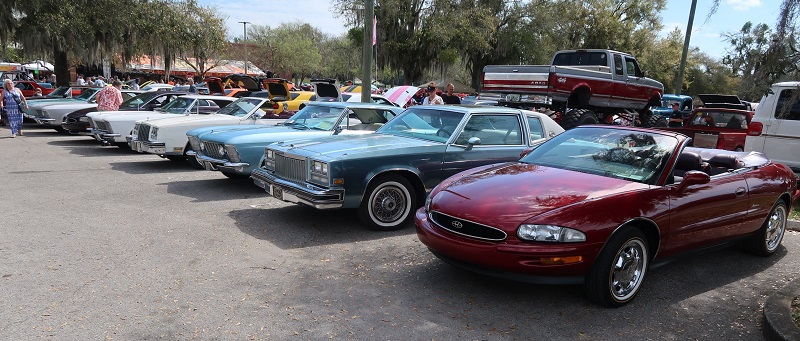 ---
Georgia
Keith Felderman # 9918
Johns Creek, GA
770-235-0406
kfelderman@comcast.net
Georgia Event Recap
October 5, 2019 – Annual ROA Potluck was held in West Bank Park next to Lake Lanier. This year the weather was almost perfect. Overcast and about 75 degrees. The turnout was not-a-so-great. We had five members show up with three Riviera's and one Buick Wildcat. We grilled hamburgers and had a bunch of great side dishes and desserts. We enjoyed good conversations about our Riviera's and other automotive topics.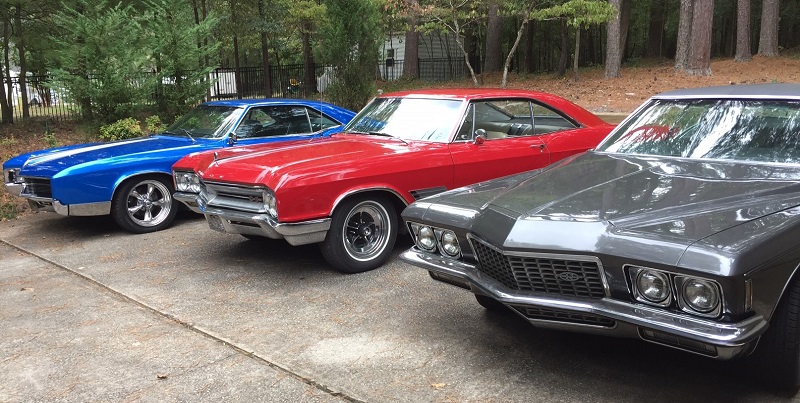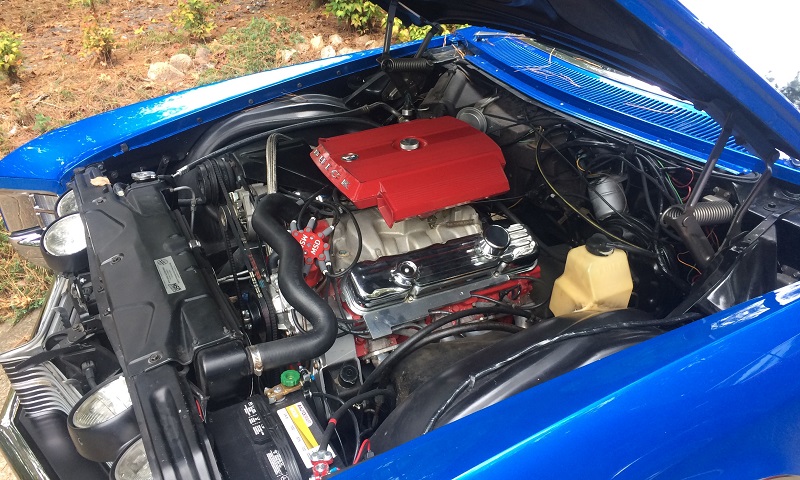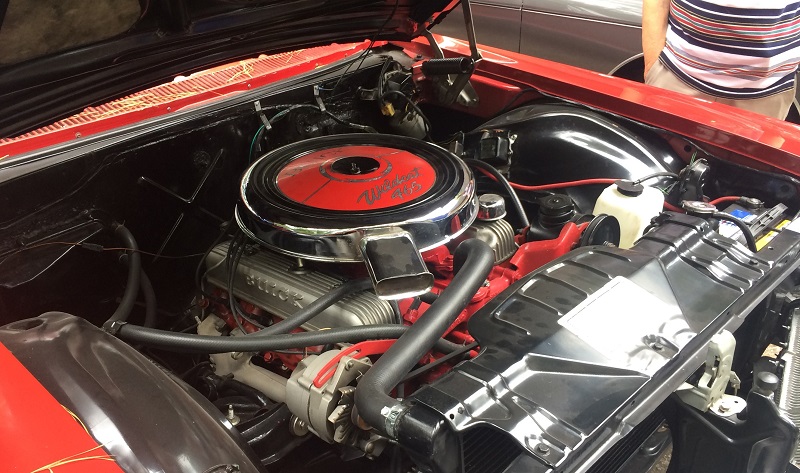 ---
MICHIGAN WEST
Steve Playter # 4955
Grand Rapids, MI
616-456-7833
michiganchapterroa@gmail.com
Michigan West Event Recap
August 3, 2019, we had a great time at the Gilmore Auto Museum Show in Kalamazoo. Attending were George and Emmi Babcock; Kevin Gartland; Chuck Anderson; Dave Jones; and Steve and Linda Playter. We talked to several interested parties about ROA and hopefully new members.
We are looking at getting together for either the Flint show on August 17th (see Other Buick Events) or maybe the Frankenmuth show September 6-8. If interested contact me at michiganchapterroa@gmail.com and let me know your thoughts. If you did not receive an email announcement, for the Gilmore show then your email is not correctly listed on our roster. To update your email, contact me and the office at office@rivowner.org.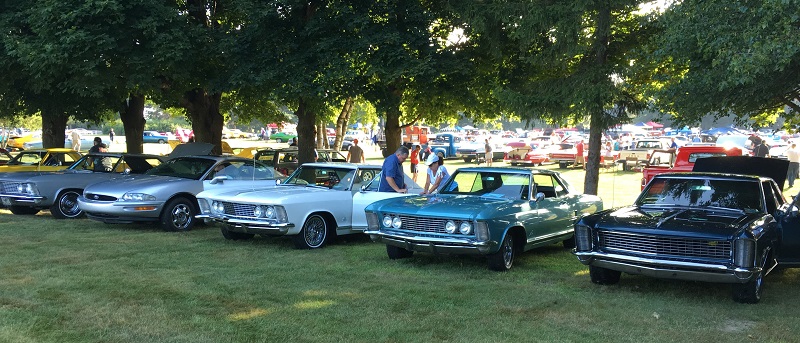 June 4, 2019, Seven ROA Members gathered at Fricanos Pizza, in Comstock for their collector car show. This is just the first of many local events to be planned by your new Coordinator Steve Playter. The seven cars on display ranged from a '63 to a '99 Silver Arrow. The Long Distance award went to Kevin Gartlnd who drove 120 miles from Clio in his '63.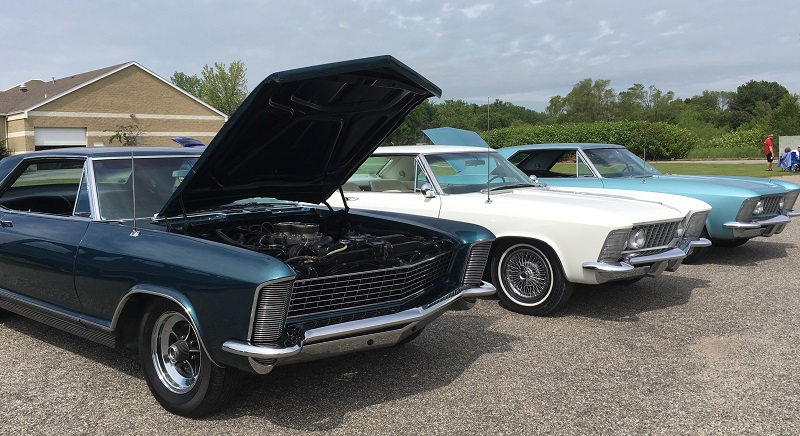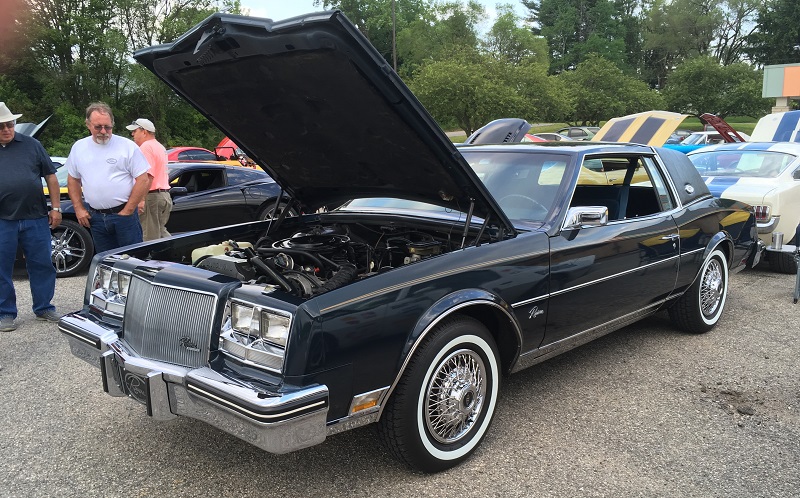 ---
MINNESOTA
Ed Gunyo #101
5243 15th Ave So,
Minneapolis, MN 55417
612-619-3983

Minnesota Event Recap
October 5, 2019, Annual Fall Tour, The Riviera, Buick, Cadillac clubs enjoyed a fall tour to Western Minnesota. Being fall it drizzled all day but that did not stop the hearty travelers. We had 23 members and 14 cars. The countryside was turning the gold of fall and the roads were re-paved and in great shape.
Our first stop was at a very serious John Deere equipment collector in Kingston. Over 100 items including pedal cars, full sized tractors and road-graters. We also visited his son's place with over 40 snowmobiles and a very rare car made by John Deere, a 1923 Velie Four Door Sedan. The car is made like a tractor, over 6,000 pounds in weight.
Five miles later we went to Milner's Winery, in business for the past 40 years and celebrated October Fest with some tasting. A few miles further we stopped at Knauses Meat Market in Kimball, where the selections are endless. Knauses' has been in one family for the past 100 years. We stopped for lunch at "Mom's in South Haven, where the burgers are made from fresh meat and enjoyed delicious homemade pie. After getting stuffed we headed home.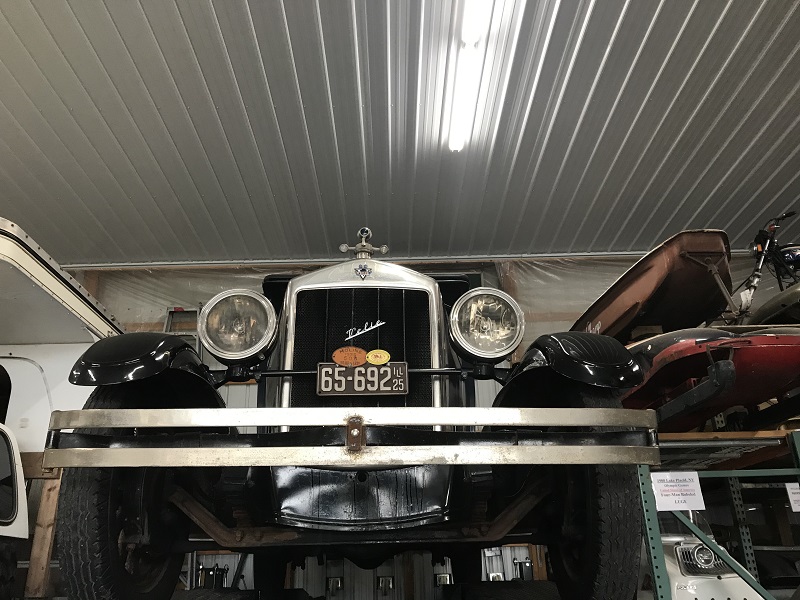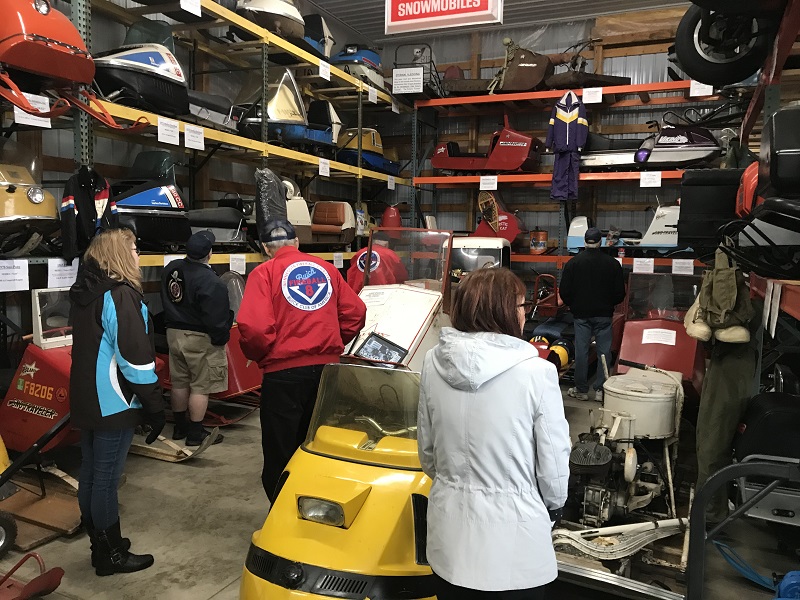 ---
NORTH CAROLINA
Randall D. Crain #5360
2493 Banner Whitehead Rd.
Sophia, NC 27350
(336) 431-3854
ROA5360@aol.com
North Carolina Event Recap
September 14, 2019, we held our Fourteenth Annual "Rivieras at the Park" in Creekside Park, Archdale. Twelve members brought nine cars to enjoy the provided lunch, conversation, sharing of tech information lunch and a great afternoon. For photos and details click here (PDF 1MB).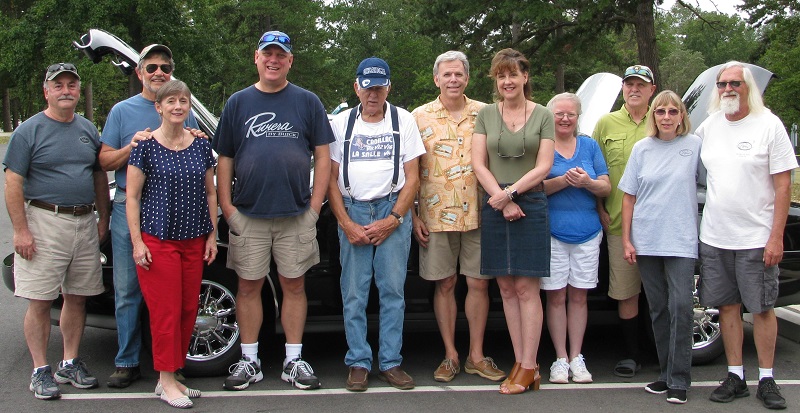 ---
NYC METRO
Darrell Ingold #1237
8 Gerald Drive
Holbrook, NY 11741
631-220-3239
ingolddj@optonline.net
CANCELLED May 24, 2020, Sunday, 9 am – 4 pm, ROA members are invited to attend the 41st Annual All Buick Show hosted by the Long Island BCA Chapter. The event will be held at Sun Buick-GMC Dealership in Wantagh. Last year we had 14 Rivieras, hoping to do at least that amount again this year. For details contact Darrell Ingold at ingoldd@optonline.net, or 631-220-3239.
---
SOUTH AFRICA
Chris Palk ROA#10373
PO Box 1333
Krugersdorp 1740 South Africa
2711-660-1322 (office)
2782-808-3360 (cell)
c_palk@uskonet.com
Click here for a copy of the Buick Nut published by the Buick Club of South Africa (PDF 4MB).
Chris and Helen Palk
---
NORTH TEXAS
Winston McCollum #13242
Plano, TX
972-762-8391
gtohurstjudge@gmail.com
CANCELLED due to COVID-19 March 28, 2020, Saturday, 4pm – 8pm, Car Show at Norma's Cafe,17721 N. Dallas Parkway, Dallas, I will reserve spaces for us to park together.
CANCELLED due to COVID-19 April 25, 2020, Saturday, 10:45 am, BBQ lunch at Pappas BBQ, 2231 W. Northwest Highway, Dallas. Bring your Rivys so we can park together underneath the huge
covered awning out front. I will arrive early to reserve our spaces under the awning next to the outdoor patio. The food there is out of this world.
Nort Texas Event Recap
October 26, 2019, A great time was had by all again this year at the Brats and Beer gathering at Pete Lamberts in Dallas. Over 40 cars were on display including Rivieras brought by our ROA members.
September 28, 2019, Due to preparations for Octoberfest in downtown McKinney we moved our gathering a few blocks to the weekly car breakfast gathering at the Rockfish restaurant. We had a great turnout with nine Rivieras and 12 enthusiasts, several of which were first-time attendees. I am so happy to see the interest and support for our local events. We look forward to our next gathering, which will be announced by email. If you have not received my emails that means yours is not current on the ROA website. If that happens send your new emails to me at gtohurstjudge@gmail.com.
March 30, 2019 – Despite the rain, ten members brought six Rivieras to the monthly show at Old Courthouse Square in downtown McKinney. We were able to park together, share stories and enjoy breakfast.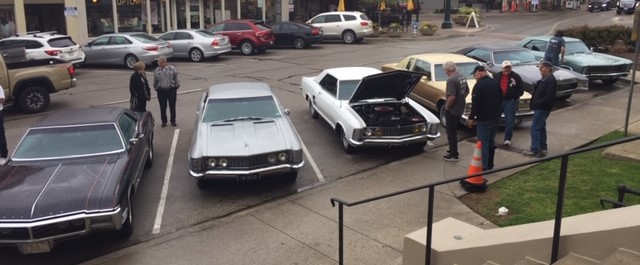 February 15-17, 2019, The ROA display at the Dallas Autorama, held at Market Hall was a great success. On display were my '65 and Pete Lempert's '63. We had enthusiastic crowds around the display all weekend and handed out five ROA membership applications to people interested in joining our group. We plan to get new stanchions built in order to have a bigger display with more cars next year. One former ROA member said he was going to rejoin ROA since we have an active local group. Overall it was a great event!
---
HOUSTON
Mike Glaz #9241
Humble, TX
281-841-3163
mbglaz@gmail.com
If you know of a local meet or function in the Houston Galveston Area that would be great for ROA members to attend contact me, Mike Glaz, coordinator, with details.TOA MEMBERS are welcomed to attend any of our local ROA events. Take those Toronados out and join us!
Houton Event Recap
March 14, 2020, The First Annual Waldon Car Show was held at the Lake Houston Golf and Country Club in Humble. Working with the country club we hope to make this an annual event. Even with the potential shutdown looming we were still able to fill the parking lot with approximately 50 cars. I will send out emails and try to get the local ROA members together later in the summer once life returns to normal.
September 9, 2018, despite a rainy-day ROA members gathered for a tour of Tony Gullo's private museum. This museum houses several hundred of Tony's favorite vehicles on his property in Montgomery.
The museum has over 250 vehicles on display with another 70 that can be rotated in and out. There was a wide variety of makes and years ranging from the 1910's to a 2006 Ford GT, still wrapped in the original plastics it came from the manufacture. In addition to regular production cars, there was a Blues Brothers Dodge, a Roy Rodgers 1940's Nash, and a Batmobile replica on the original Lincoln frame. Tony advised us that all the donations he received go towards giving Christmas gifts to local needy families. Those who attended enjoyed an afternoon where they were able to enjoy many cars they had never seen.
---
WASHINGTON
John Andreassen # 1781
5442-A Schoth Rd. S. W.
Turnwater, WA 98512
360-754-3745 (Home)
360-481-3325 (Cell)
norseman63@comcast.net

---
GS Nationals
Bowling Green, KY
POSTPONED TO 2021 May 13-16, Wednesday – Saturday. The annual GS Nationals, sponsored by the GS Club of America will be held once again at Beech Bend Raceway in Bowling Green, KY. For details visit http://www.gsnationals.com/
---
Buick Charity Car Show
Gurnee. IL

POSTPONED until the Fall – Date to be announced June 7, 2020, 9am – 3 pm. ROA members are welcomed to the event hosted by the local BCA chapter at Anthony Buick GMC in Gurnee. Peer judging with thirteen classes of which two are for Rivieras 1963-70 and 1971-99. Registration $15. Contact Kevin Kauppi ROA #14307 at 224-623-1297 or kevinkauppi13@aol.com. Click here for additional information and registration.
---
All Buick Show
Puyallup, WA
POSTPONED TO Autust 22 June 20, 2020, Saturday, 10am – 4 pm, ROA is invited to join the annual all Buick show sponsored by the Puget Sound chapter of the BCA. Click here for details and a registration.
---
BCA Nationals
Strongsville, OH
CANCELLED July 15-18, 2020, The Buick Club of America hosts it annual meet with tours and 400-point judging. For additional information and a registration form go to www.buickclub.org.
---
Back to the Bricks
Flint, MI
CANCELLED August 15, 2020, Saturday, 9am – 4pm, Return to the birthplace of the Buicks for this annual Buick car show. Click here for a flyer with all the details you want to know.
---
Have you contacted your Regional coordinator recently? Now is a good time! They may need help or encouragement to get local activities planned.