AUSTRALIA
National / Queensland
Linda Hall #10723
Redland Bay
07 3829 2222
brianhall.hall@gmail.com.au

Victoria / Tasmania
Tom Kunek # 3845
Melbourne
03 9877 3718
riv@netspace.net.au

New South Wales/ South Australia
Tony Gentilcore #10107
Sydney
02 9453 9199
Rivs@mako.com.au

We regret to inform the membership of the death of our friend and Australian Coordinator Brian Hall, who lost his battle with Cancer on February 17th. Our thoughts and prayers go out to his wife Linda and their family.

Linda will continue on as the Australian coordinator, with the support of Tom Kunek, and Tony Gentilcore as Regional Coordinators and John Forster, as Newsletter Editor.
Click here to read the January 2015 issue of the informative Australian version of the Riview with stories on local Rivieras and much more. (PDF 3 MB).
August 27-30, 2015 ,Thursday- Sunday. The 4th Australian Regional ROA meet will be held at the county town of Wagga Wagga in a region called "The Riverina". Wagga Wagga is an agricultural region of south-western New South Wales, located exactly half way between Sydney and Melbourne.
The host hotel is the Garden City Motor Inn and the entire Motor Inn has been blocked for our event, with an over flow nearby. Be sure to register early to be at the host Inn. You must book for four nights to get the discount rates which start at $99 per night. Managers Mark and Fiona Baker can be reached at info@gardencitywagga.com.au.
We have many tours planned including the magnificent war birds at Temora Aviation Museum and the liquorice and chocolate factory in the small town of Junee.
We extend an invitation to all ROA members, regardless of what country you live to join us for this fun filled week. For additional information contact Tom Kunek # 3845 at riv@netspace.net.au.
Attached are the abbreviated event details (PDF 105 KB and the entry form (PDF 25 KB). To ensure you get into the host motel it is recommended that you book as soon as practical.
Please fill out the entry form early also to ensure that Tom has correct numbers to facilitate his work in organizing venues and catering.

Australia Event Recap
Third ROA Australia Regional
Bathurst, New South Wales.
May 22-26, 2014
For a summary & photos of the meet, click here
Read all about the regional meet as written in a local newspaper click here
March 30, 2014," Riviera's Day Out" was celebrated at the Yarra Valley Museum, Melbourne. The day was organised as a prelude to the ROA Australian National Meet at Bathurst NSW this coming May. The weather was beautiful for a perfect day to view the 13 Rivieras on display brought by 32 happy members. There were plenty of things to see around the Museum, as well as enjoying the company of the proud owners, family and friends.
The cars were displayed in chronological order so it was easy to see the design evolution of the Riviera from 1963 through '74. Peer judging was conducted so that everyone could review and then vote for their favourite Riviera. A 1967 owned by Steve McCluskey received the People's Choice Award.
Our Thanks to ROA member Tom Kunek for organizing this event.
---
CENTRAL FLORIDA
Bob Wannall ROA# 3069
1101 SE 56th Court
Ocala, FL 34480
(352) 690-7729
bobwannall@gmail.com (NEW)
March 21, 2015, Sunday, 9:00am – 3:00 pm. Join us for the 5th Annual Marion County Tax Collector's Car Show in Ocala. Our tax collector, George Albright, is a car guy and always brings his Model A racer with a genuine Harry Miller-built flathead. This is a "fun for the whole family" event with music, kid's bounce house, face painting, fire engines, food, vendors including an azalea sale, Top 25 and People's Choice trophies, and lots of shady parking.
Pre-registration is $15, or $20 at the gate, with all proceeds to charity. The location is the tax collector's office at 503 SE 25th Ave., Ocala, so set your GPS, fire up your classic Riviera, and be part of our Riviera line-up at the show. Contact Bob Wannall at bobwannall@gmail.com for additional information. Registration Form (PDF).
| | |
| --- | --- |
| May 14-16, 2015, Fifth ROA Southeastern Regional, to be held Thursday – Saturday in Savannah, GA. This 3 day event will, as in the past, include tours, car show, judging and an awards banquet. For additional information contact Keith Felderman at kfelderman@comcast.net Click here for a Schedule of Events and a Registration form. | |
Central Florida Event Recap
February 7, 2015, Our Winter Get-together was hosted by Richard and Irene Morin at their home in Brooksville, north of Tampa. Fourteen members and family brought eight classic Rivieras spanning all the generations, from 1964 to 1998.The display was also thoroughly enjoyed by their neighbors. We told lots of Riviera stories, swapped tech ideas, caught up with old friends and made new ones, shared the latest news of our families, and enjoyed a covered dish lunch with Richard wielding the spatula at the grills preparing hamburgers and hot dogs. When the votes were tallied, everyone said "let's do this again." The Morin's have invited us back, so if you missed this one, plan to joining us next year.
Our next Central Florida event is participating in the Tax Collector's Charity Car Show in Ocala on March 21. Let me know you're coming. We'll meet and drive in together. Register at http://www.mariontax.com/uploads/ckfinder/files/5th%20CarShow%20Entry.pdf.
October 4, 2014 – Fall Gathering, Twenty-four Central Florida area ROA members brought their classic Rivieras and a lot of enthusiasm to our Fall Gathering at the National Parts Depot All-GM Oktoberfest at Silver Springs in Ocala. We fielded an impressive display of 13 Rivieras ranging from 1964 to 1998. Among the 450 cars – all General Motors products including a 1914 Buick cycle car owned by the grandson of David Buick's first chief engineer –Steve Brisbois was class winner with his beautiful 1968 custom Riviera (his second win at the Oktoberfest). Plus, we rated several paragraphs in the wrap-up article in the following day's newspaper!
It's Florida, so our mild winter is our prime time for getting our Rivieras on the road. Meanwhile, look for information about for our Winter Gathering. Happy motoring!
---
FLORIDA SOUTH ATLANTIC
Bob Brumbaugh # 12549
8116 7th Pl S
West Palm Beach, FL 33411-5434
561 795 4054
rivierabob@bellsouth.net
Weekly Events
Monday, 5-8pm, Southeast Rods & Customs Pirate's Well Restaurant and Bar 9477 Hwy Alt. A1A Lake Park, for more info Call 561-629-7020
Tuesday 5-8 pm, PBC Classic Car Shows, Grand Tavern 710 Linton Blvd. Delray Beach. for more info. Call Jean @ (561-704-0669
Wednesday 4:30-8pm, PBC Classic Car Shows, at the City Pub 956 South Federal Hwy. Deerfield Beach, for more Info. Call Jean @ (561-704-0669
Wednesday 5-9 PM, at Big Al's Pizza, Highland Park Plaza, Belvedere and Sansbury SW corner for information contact Bud 758-7144 or Rick 882-1330.
Friday nights -Fosters Cruise Night at Costco's on Southern Blvd. West of 441
Second Saturday 4:30-8 pm, Free show sponsored by PBC Classic Car Shows, Gander MTN 100 Gander Way Palm Beach Gardens.
| | |
| --- | --- |
| May 14-16, 2015, Fifth ROA Southeastern Regional, to be held Thursday – Saturday in Savannah, GA. This 3 day event will, as in the past, include tours, car show, judging and an awards banquet. For additional information contact Keith Felderman at kfelderman@comcast.net Click here for a Schedule of Events and a Registration form. | |
Florida South Atlantic Event Recap
May 15-17 2014, Thirty two ROA members and their guests gathered in Asheboro, NC, for the 4th ROA Southeastern Regional. The event included local tours and a Saturday show with 21 Rivieras from every generation. For details, photos and award winners, click here.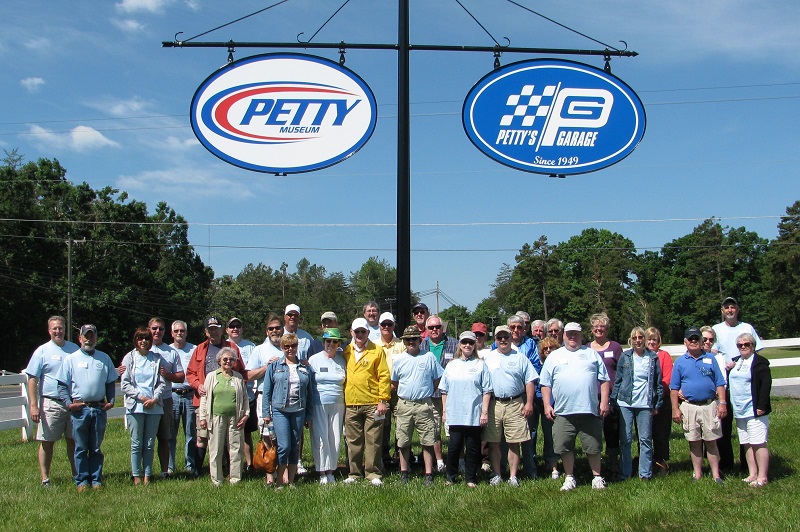 ---
GEORGIA
Keith Felderman # 9918
5485 Taylor Road
Johns Creek, GA 30022
770-235-0406
kfelderman@comcast.net
| | |
| --- | --- |
| May 14-16, 2015, Fifth ROA Southeastern Regional, to be held Thursday – Saturday in Savannah, GA. This 3 day event will, as in the past, include tours, car show, judging and an awards banquet. For additional information contact Keith Felderman at kfelderman@comcast.net Click here for a Schedule of Events and a Registration form. | |
Georgia Event Recap
October 15, 2014, ROA members gathered at West Bank Park on Lake Lanier in Buford for their annual pot luck. The forecast had a 0% chance of rain, so of course we all woke up to rain that morning, but we all soldiered on and the day turned out nice. We welcomed a couple of new members and had a great time eating all the grilled burgers and pot luck dishes our member brought. The weather, I'm sure, held our attendance down but we still ended up with 12 members and six Rivieras. A special thanks goes out to all the attendees who came, your support is very much appreciated!
---
HOUSTON
Mark Bristol # 12152
19110 Shale Creek Dr.
Tomball, TX. 77375
832-643-8161 6-10pm
markb.roa@comcast.net
If you have a local meet or function in the Houston Galveston Area that you feel would be great for ROA members to attend contact me, Mark Bristol RC with details.
TOA MEMBERS:
All of the Toronado owners have open invitation to attend any ROA function. We are sister clubs and our National meets are joint club functions. Here in the Houston Region it is the same!!! So if your on my email list and have been getting ROA announcements, this is why. Bring those Toronados out!!!
Houton Event Recap
October 18, 2014, The Houston Region of ROA and TOA joined the CLC, OCA, APA, GTO club in an all GM meet in Cypress, Texas. We had a number of Rivieras including a '63, a '64, three '65's, a '66, a '72, and a '66 Toronado. Others brought a "63 Lesabre with only 19K, a "64 Skylark, "58 Cadillac and a '62 Special. Weather was perfect and we had a great time visiting with owners of Cutlass's, 442's, F85's, Hurst Old's, Catalina 2+2's, Bonnevilles, and many others.
We intend to have an all GM exc Chevy meet again next spring. This year we will have a 1972 Riviera representing the ROA in the Houston Autorama.
March 30, 2014, ROA Annual Spring Picnic was again held at Spring Lake Park in Tomball, where it was a gorgeous 77 degree spring day. Members from the ROA & TOA brought ten Rivieras and two Toronados. Several members came without their cars as well. Hamburgers and hot-dogs and several wonderful sides and deserts were served up to a enthusiastic group. The main topic of discussion was plans to attend the ROA National Meet this June in Colorado Springs. At this time, the Houston Region has 13 members with confirmed reservations for the international meet. We have three groups all meeting in Amarillo for the last leg of the cruise. We also welcomed a new friend as a guest today, James Bartlett with his beautiful 1966 Riviera GS. It was one of our best picnics ever!
---
Darwin Falk # 2077
1904 Morgan Ln.
Anaheim, CA 92802
714-740-0101
Riviera66@aol.com
http://www.roasocal.org/
Los Angeles Event Recap

January 18, 2015, Seven members of the ROA & TOA got together for a fun-filled Sunday breakfast in Anaheim at Ruby's Diner. Most then caravanned 32 miles to El Segundo to the Automobile Driving Museum. The ADM is quite unique as a museum in that all of their vehicles are registered and insured to be driven, and drive them they do. Every Sunday they pick 3 or 4 cars and give museum goers a ride through the neighborhood in their classics. An additional 4 members joined us at the museum for that portion of the day.
We had our own docent who gave us a great guided tour of the museum and then we went driving. This particular Sunday was chosen for the event because one of the cars was a Buick, a '38 Special 2 door sedan. The other vehicles driven that day were a '32 Packard roadster, a '48 Kaiser Manhattan, a '60 Chevy Corvair, an AMC Pacer and a '64 Malibu SS. The Packard and Corvair unfortunately didn't last too long before having mechanical issues. I have to say that the smoothest riding car was the Buick, but the Kaiser was my favorite ride of the day. Since they rotate the cars each weekend, we'll come back in a year or so to sample some different cars. The driver of the Manhattan told me that his absolute favorite to drive is their '28 Buick. He says it's as smooth as can be. So... perhaps we'll watch for that car to make the rotation. They also had a sweet looking '38 Oldsmobile... so maybe that'd be our other option. Check out the photos... that's us enjoying the rides. Hope to see you at our next SoCal event.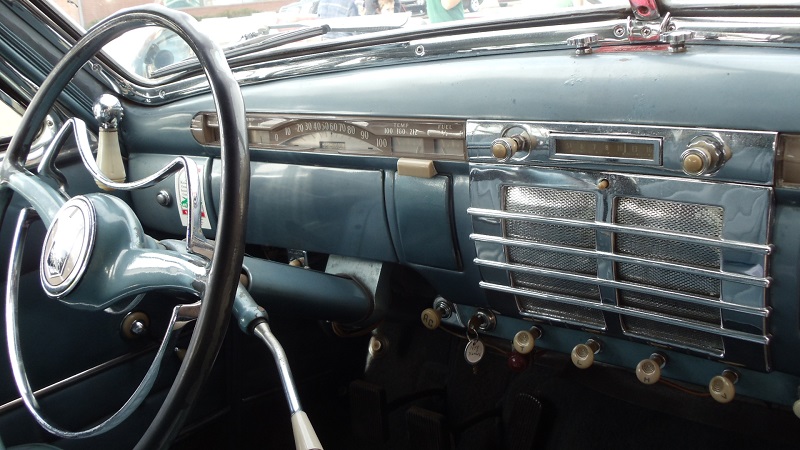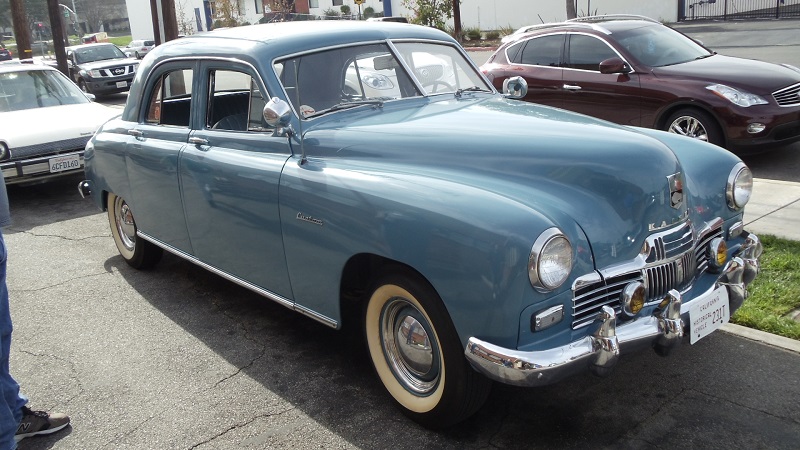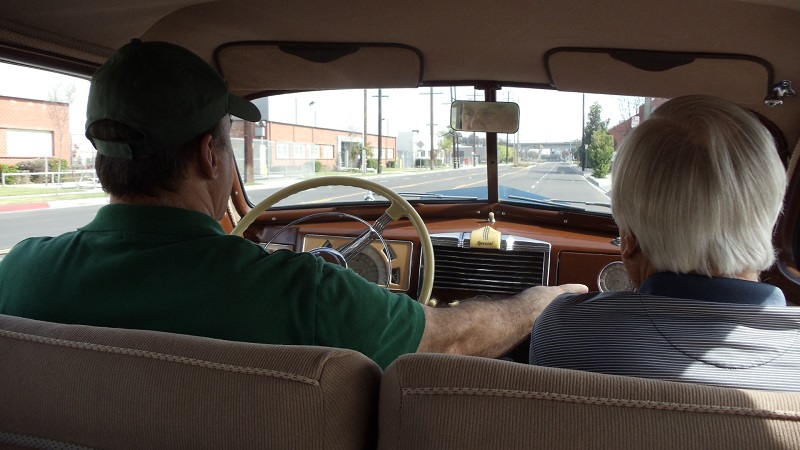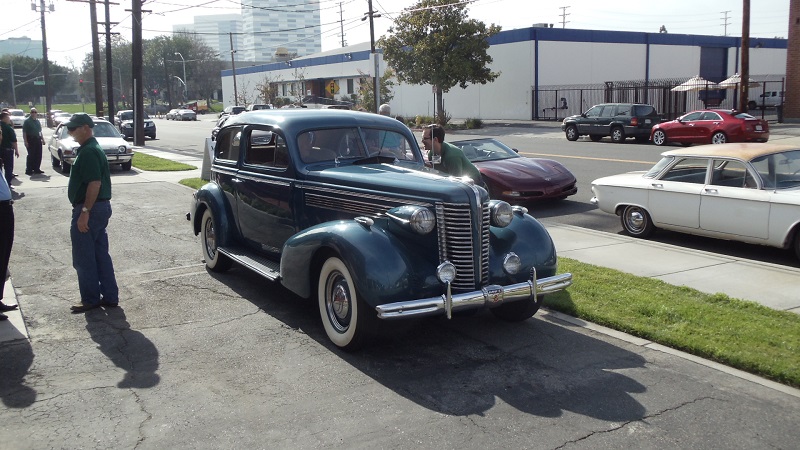 September 13, 2014, We had 17 members of the ROA and TOA join us for a "Rise & Shine at Polly's Pies in Orange County. There was ten Rivieras and one Toronado on display in their lot. Once again Polly opened their entire patio for our large group, which gave us privacy discuss our collections of Rivieras and Tornados. It was great seeing some cars and members for the very first time... plus a few familiar faces. Check the ROA website for more events to be scheduled this spring.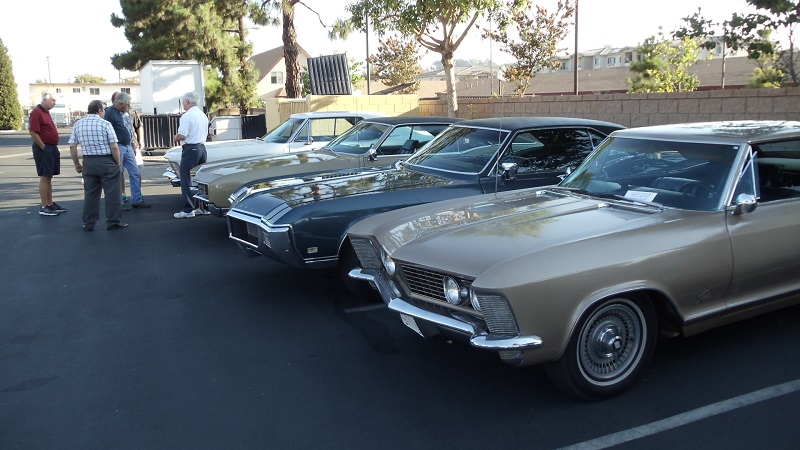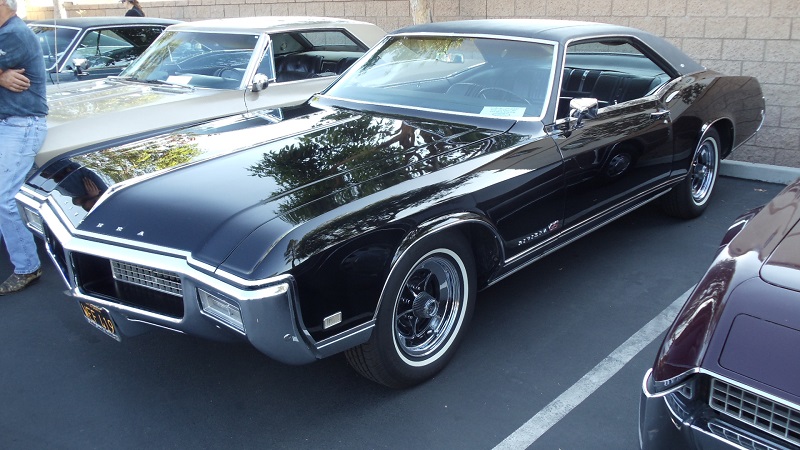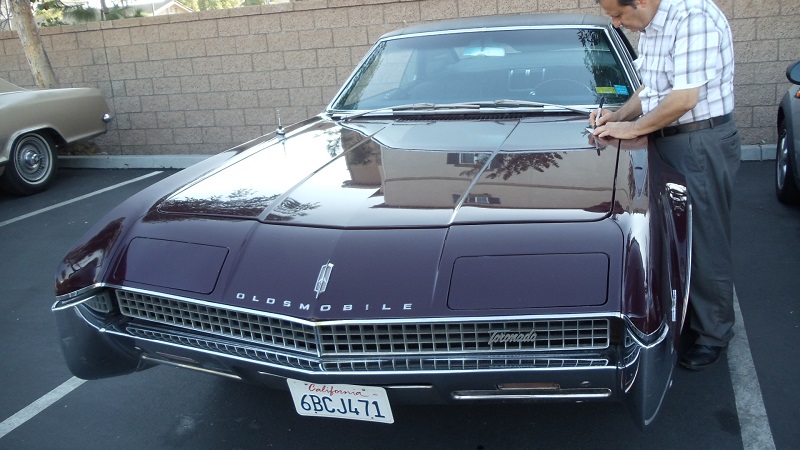 ---
John Root # 5011
6256 W. Carpenter
Flushing, MI  48433
810-732-5979
jcr64riv1@comcast.net 
Michigan Event Recap
July 30th, Pot Luck, Ten ROA members gathered for an enjoyable afternoon with good food and conversation. In attendance were; John & Mary Root, Gil & Pam Moorman, John & Anne Pierce, Jim & Jackie Booth, Albert & Kathie Anderson.
---
NEW! MICHIGAN WEST
George Babcock #4808
460 N. Main
St. Allegan, MI 49010
269-673-3124
grbabcock@charter.net
---
MINNESOTA
Ed Gunyo #101
5243 15th Ave So,
Minneapolis, MN 55417
(612) 824-9339

Minnesota Event Recap
May 17, 2014 , Annual ROA/BCA Tour. We had a good run with 22 folks and sixteen cars. We started early and after a short drive stopped for lunch at the Lakeview Country Club. After lunch we toured to the Cold Spring Brewery. Some folks went to the famous Cold Spring Bakery and some to the local Antique Store. From there we went north to St. Johns University, where John Ericson, a graduate, took the group on a tour of the campus. Enclosed is a picture of the group in front of the Chapel. We then drove south to South Haven for dinner at "Mom's Restaurant", which has homemade food and a great car theme. After everyone was well feed we headed back to Minneapolis. Overall we had a fun filled, picture perfect day with great friends.
---
NOR/CAL Region
Jim Day #2613
4804 Granite Drive, F-3,#151
Rocklin, CA 95677
916-997-0156
My name is Jim Day and I have been an ROA member for almost 25 years. I was the Regional Coordinator for northern California for almost 20 of those years. My wife, Peggy Sue and I together totally amerced ourselves into the old car hobby and their respective clubs for most of those years. When we were new to the hobby, we applied ourselves and became students of the hobby, learning from members who had been involved in the clubs much longer than us, paving the way for younger, newer members to eventually get involved with a club. It is my opinion that it's the job of us senior members to attract and teach new members how to actually get involved with a club and support the new folks by actions. Set the example of what an active club member should do, then teach those who are willing to learn. Getting involved by attending meetings, car shows, tours, swap meets, volunteering for work days, getting involved by taking an officer's position within the club is vital to obtaining the most fun that clubs have to offer. Meeting and getting to know the members on a personal level creates life-long friends in most cases. We thoroughly enjoyed ourselves for the first 20 years. We accomplished goals that we had set for ourselves and derived more pleasure out of personal achievements than we could ever explain.
In 2010 we were involved in a serious auto accident during which my heart had stopped. Fortunately, Peggy Sue was not injured. I was off work for most of that year going thru therapy to build back muscle and stamina. I suffered some short term memory loss and a concussion from the accident as well. I also lost most of my ambition to do much of anything for the next 3-1/2 years. It was just 6 months ago that I started to miss the car hobby, clubs and camaraderie with our friends. I am happy to say that I am back to normal now.
I said all that to say this: Ray has allowed me to get back involved with the ROA as the Regional Coordinator for Nor/Cal and Northern Nevada, unless there are others who would be interested in taking the job. If there is a member or members who would like to take the Regional Coordinator's position for ROA Nor/Cal, please let Ray Knott know as soon as possible. Peggy and I are willing to help you get started if you like. However, if it turns out that there is nobody interested in taking the job, then I am willing to take the job again and do my best to get these two regions active again like we once were. To do that, I will need a lot of help & support from the members. It wasn't that long ago that we had a very active region here. I know that we can get that activity back again. I also know that we have a lot of new members in this Region, some of whom would like to be more involved with the ROA. There are several car activities being scheduled this year. The price of gasoline is cheaper now than it has been years. Let's unite and get those beautiful Rivieras back out on the roads & highways and show 'em off. They do not have to be perfect show cars. I think we would all agree that the Riviera is one of the best body styles ever designed and produced by GM. The Riviera was built to be driven and to make the owners of them proud to be seen driving them.
I'd like to hear from those Nor/Cal ROA members. Send me an email listing what kind of activities that you'd prefer to attend or support by your attendance. It's ok to also tell me what you do not like or have no interest in, as it relates to the ROA activities. I can be reached at: buickdude@sbcglobal.net, and/or 916-997-0156 cell.
Below are some local shows, for details, members may contact me. In the meantime I will be sending out an email to all current members in our Region. If your email is not up to date with the ROA office let us both know. I welcome any suggestions for an exclusive ROA get together. A Tour, Picnic, Luncheon, whatever, contact me with your ideas. I'd like to schedule a get acquainted meeting for ROA Nor/Cal and a separate mtg., for Reno/Carson City area, depending on how many members show an interest.
March 14 2015, Casa Roble High School Car Show. Casa Roble H.S. Parking Lot. 9:00 a.m. to 2:00 p.m.
March 28, 2015, Lodi, 40th Annual Easter Run. Micke Grove Park, 8:00 a.m. to 4:00 p.m. Open to all vehicles
May 30, 2015, Lodi, Eagles Nest Car Show-n-shine. (More info to come)
July 10, 2015, Sixth Annual "Collector Car Appreciation Day". (more details to follow)
---
NORTH CAROLINA
Randall D. Crain #5360
2493 Banner Whitehead Rd.
Sophia, NC 27350
(336) 431-3854
ROA5360@aol.com
| | |
| --- | --- |
| May 14-16, 2015, Fifth ROA Southeastern Regional, to be held Thursday – Saturday in Savannah, GA. This 3 day event will, as in the past, include tours, car show, judging and an awards banquet. For additional information contact Keith Felderman at kfelderman@comcast.net Click here for a Schedule of Events and a Registration form. | |
North Carolina Event Recap
September 13, 2014, Ninth Annual Rivieras at the Park. Despite inclement weather 14 loyal ROA members and guests met at Creekside Park in Archdale. This year we had three of the eight generations in attendance, there were three 1963s, one 1964, two 1972s, and one 1993. Lunch was served around 12:30 and enjoyed by all that attended.
As usual lots of conversations and information sharing about the different generations. Once again Glen and Sandra Roberts drove 275 miles to attend in their very nice '63. We always appreciate their support especially considering the distance they have to travel. And as they have done in the past they brought doughnuts! We had a new member, named Scott, who was interested in information to restore his '65. The car was purchased by Scott's father-in-law in 1972 for his wife and has been in the family ever since.
As in the past we took our group picture with one of the Rivs in attendance, this year we decided to take our group picture with Jim Taylor's modified '63 Riviera in the foreground.
As always Gwyn and I would like to thank those who attended. Your support is what makes it worth the effort. As usual, we hope to see you again next year on the Saturday before the Charlotte Auto Fair, around the second or third Saturday in September.

Modified engine in Jim Taylor's '63
May 15-17 2014, Thirty two ROA members and their guests gathered in Asheboro, NC, for the 4th ROA Southeastern Regional. The event included local tours and a Saturday show with 21 Rivieras from every generation. For details, photos and award winners, click here.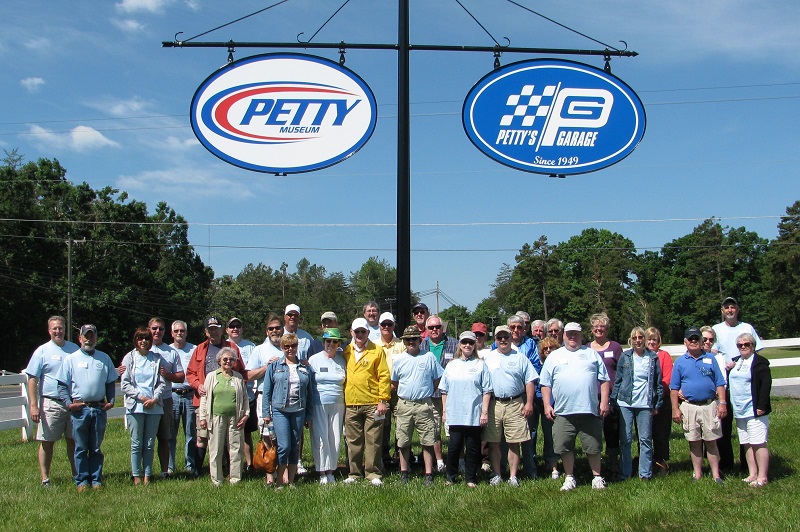 ---
NORTH ILLINOIS
Warren Ramsey #2328
211 S. Pecatonica St.
Winnebago, IL 61088
(815) 335-2423
---
OHIO & WESTERN PA
John Farlin #13173
Akron, OH
ohio_pennsylvaniaroa@aol.com
North East Ohio Event Recap
August 10, 2014 First Annual All Riviera Cruise-In. After a setback with rain on our first date of August 3rd. The sky was blue for our next date. Unfortunately we lost a few, who were unable to make the new date and others with mechanical problems. Despite this, the 1st Annual Penn-Ohio Buick Riviera Only Cruise-In was still a huge success!
Twelve Rivieras gathered at Summit Racing in Tallmadge for the start of the Cruise. That included a guest from BCA in red 1993. It is worth mentioning that Chip Aeppli #5913 (with help from two friends) brought all three of his Rivieras! a 1971, 78, and a 98. At Summit, members were able to spend some time in the retail store, and some time socializing with other members in the parking lot. I would also like to point out that Summit Racing sponsored this ROA event, so we all got some free Summit decals and a free identification card for our dash.
At 1:00pm, and with an all blue sky and perfect weather, we left Summit Racing in a convoy of Rivieras on a 58.9 mile tour to Hickory Bar and Grill in Hermitage, Pennsylvania. At Hickory Bar and Grill, we met up with more ROA members, for a total of 18 Rivieras, ranging from 1964 to '98. Each generation was well represented ! We then quickly filled the dining area with ROA members and had a great lunch.
At 5:00pm, we went in a convoy a short distance to the "Avenue of 444 Flags" where we all drove through and around the display of 444 USA flags. Nothing but Rivieras, it was absolutely breath taking!
After a short stop for ice cream we went to the "Original Quaker Steak and Lube" sitting right next to the Shenango River, in Sharon, PA. There we were able to spend some time on a deck right on the river's edge listening to some live outdoor music! For me personally, this was the "funnest" cruise-In I ever did! See you all next year!
Click on the link below to watch a video of the 2014 Ohio & Western Pennsylvania Cruise-In. Unfortunately, all the cars that attended the event are not in the video.
Buick Riviera Regional Cruise-In on YouTube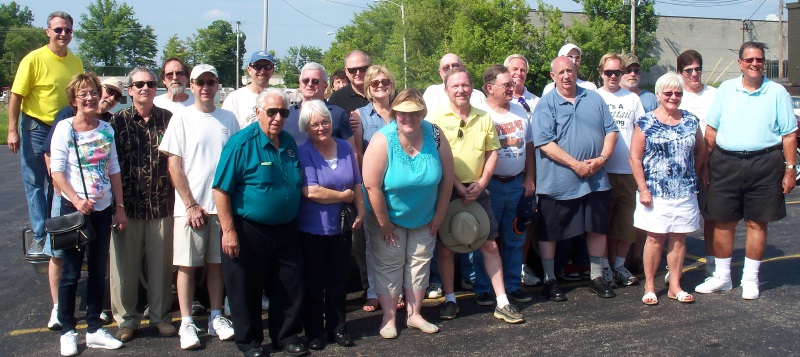 ---
NYC/LONG ISLAND
Harold MecCabe ROA # 2569
74-25 64th St.
Glendale, NY 11385
(718) 366-3628

September 13, 2015, Sunday, 10:00am – 4:00pm. Annual Street Fair and Car Display, at Fresh Pond Road and Myrtle Avenue in Glendale Queens. Click here for a flyer.
---
OREGON
Richard Smith #2082
7539 Lakeside Dr. N.E.
Salem, OR 97305
(503) 393-2187
Oreroa@yahoo.com

---
SAN DIEGO, CA
Lee Carroll #433
P. 0. Box 87923
San Diego, CA 92138
(619) 226-6993


March 22, 2015, A good place to enjoy the afternoon is at the 3rd Annual Deer Park All Makes & Models Car Show. Contact James Bowersox @ b2924@sbcglobal.net for more details.
San Diego Event Recap
March 23, 2014, Sunday, ROA and BCA members toured the Water Conservation Garden on the Cuyamaca College Campus. The tour started with a display of the many plants & trees that are native to San Diego. Since San Diego was once an isolated high desert region water must be shipped in by a variety of means. Water Conservation is a major issue since 98% of the entire State of California is currently locked in the grips of a drought, with no end in sight.
The members were shown ways to save water without sacrificing a lush green landscape. They gave our small, but eco friendly group new ideas on landscaping and the care of plant life in their homes. This very interesting & informational tour was followed by a pleasant late lunch at the nearby TGIF restaurant
---
SOUTH AFRICA
Chris Palk ROA#10373
PO Box 1333
Krugersdorp 1740 South Africa
2711-660-1322 (office)
2782-808-3360 (cell)
c_palk@uskonet.com
---
TENNESSEE
Larry Lovell #11001
2155 Pewter Drive
Knoxville, TN 37909
(865) 690-7421
llovell100@yahoo.com
| | |
| --- | --- |
| May 14-16, 2015, Fifth ROA Southeastern Regional, to be held Thursday – Saturday in Savannah, GA. This 3 day event will, as in the past, include tours, car show, judging and an awards banquet. For additional information contact Keith Felderman at kfelderman@comcast.net Click here for a Schedule of Events and a Registration form. | |
Tennessee Event Recap
September 13, 2014, The TN ROA contingent met at the Chattanooga Cruise- In at Coker Tire in downtown Chatanooga. This event was sponsored by Coker Tire and Honest Charley's Speed Shop. Nine members brought five Rivieras to the gathering. Richard Ackerman was there in his '99 Silver Arrow, Boyd Barker and his brother Mark were there in Boyd's black '76. Wayne and Barbara Pilkington brought their White '91. Don Sinclair and Jimmy Hamilton came in Don's Green '69, and my wife Marie and I were there in our black/cream Modified '65.
The mix of cars was eclectic making for an enjoyable experience. Everything from Rat Rods to Ferrari's. The Coker museum was incredible. So many nice cars and a wall of vintage motorcycles. The Coker Tire people took great care of us and we even got to meet Corky Coker. I'm sure everyone enjoyed an enjoyable day. I know there was at least one bet lost on a 1950's Buick Special Riviera edition on display. A special thanks goes to all the attendees who came. Your support of our regional events is very much appreciated.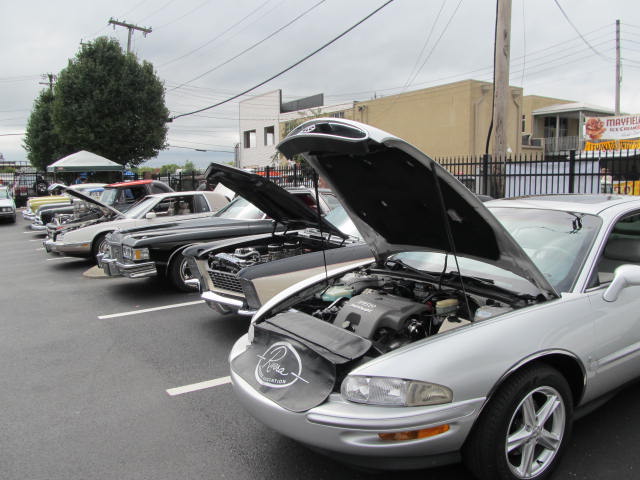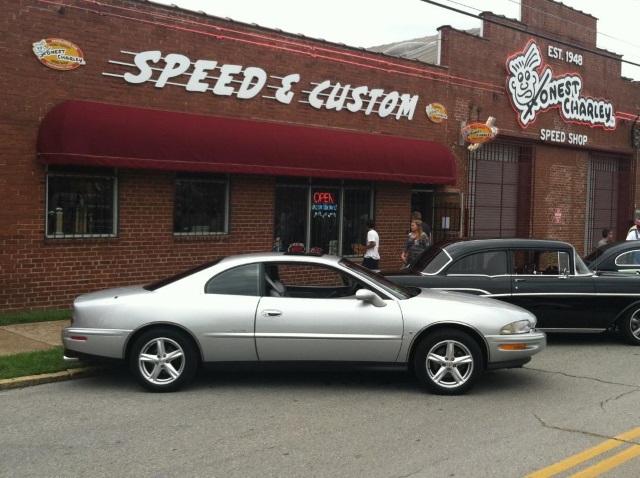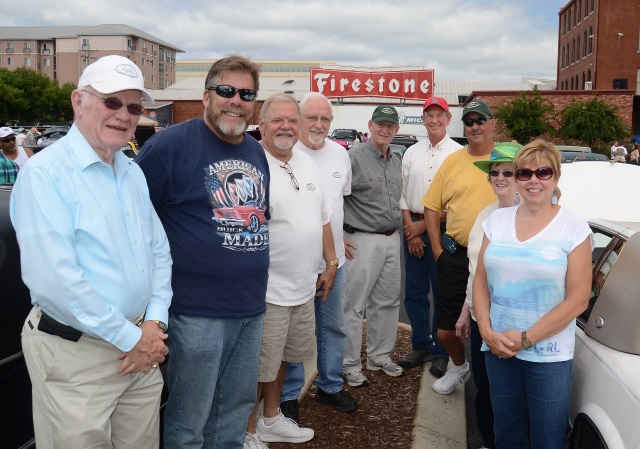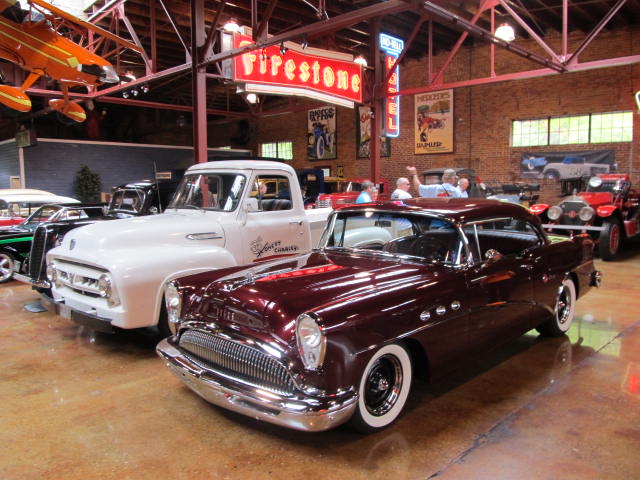 May 15-17 2014, Thirty two ROA members and their guests gathered in Asheboro, NC, for the 4th ROA Southeastern Regional. The event included local tours and a Saturday show with 21 Rivieras from every generation. For details, photos and award winners, click here.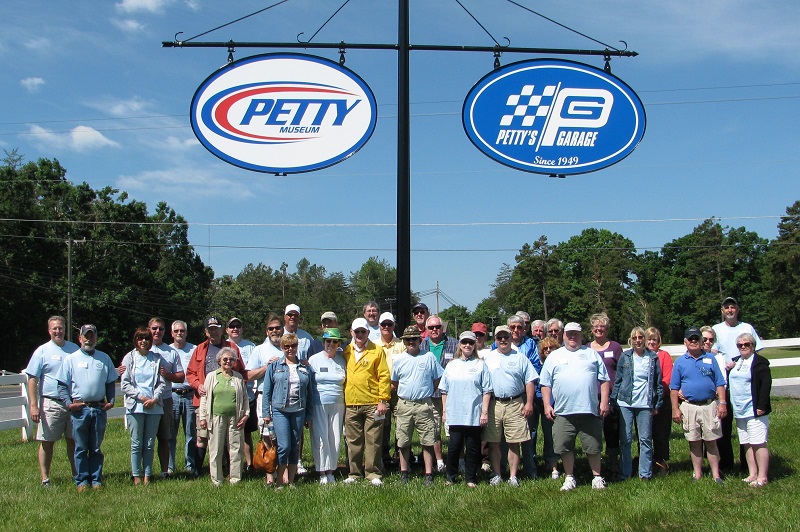 ---
Ventura / Santa Barbara Counties
Lee Pickett # 10039
900 Calle Plano unit E.
Camarillo, CA. 93012.
805- 807-9592
leroy1492@gmail.com
May 2, 2015, Saturday, 12:30 – 3:00 pm, Another ROA/BCA event hosted by the Ventura/Santa Barbara County ROA & the Los Angeles/ San Gabriel BCA chapter. The event will once again be held at the home and avocado ranch owned by ROA coordinator Lee & Lisa Pickett. Details will be announced here soon or contact Lee directly at leroy1492@gmail.com
Cruise Nites, First Saturday of the Month, 4pm- 7pm at the Islands Restaurant 935 Broadbeck Drive, Newbury Park. Hope to see you there!
Ventura Event Recap
August 2, 2014, Buicks & Avocados
Approximately 40 members from the ROA & BCA gathered in Ventura at Coordinator Lee Picket's avocado ranch to socialize with other owners and hear information on the Lucerne, Buick's concept car that inspired the last generation Riviera. For a summary of this successful event click here (PDF).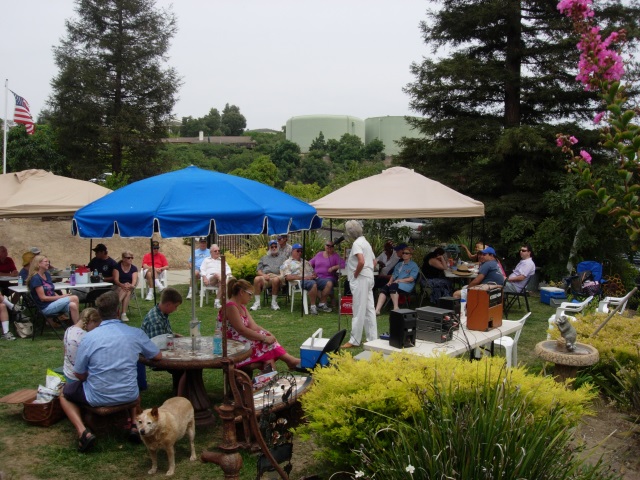 Guest speaker Helen V Hutchings , in white, gave a brief presentation, reminiscing on Lucerne.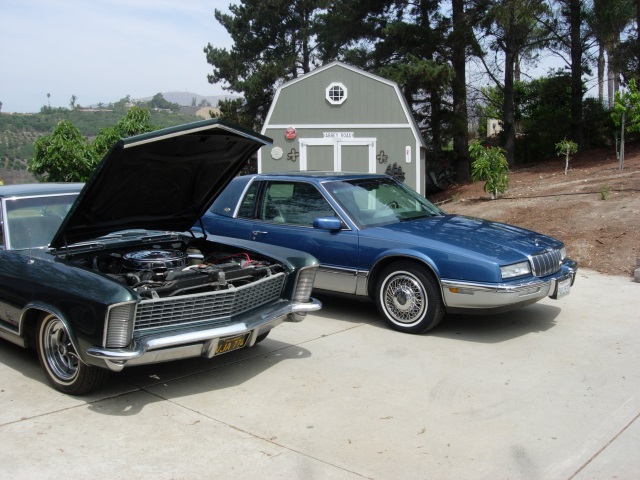 Pete and Sue Van der Kraan's '93 had carried them to the ROA meet in Colorado Springs. So a three hour drive to attend this gathering was "easy peasy."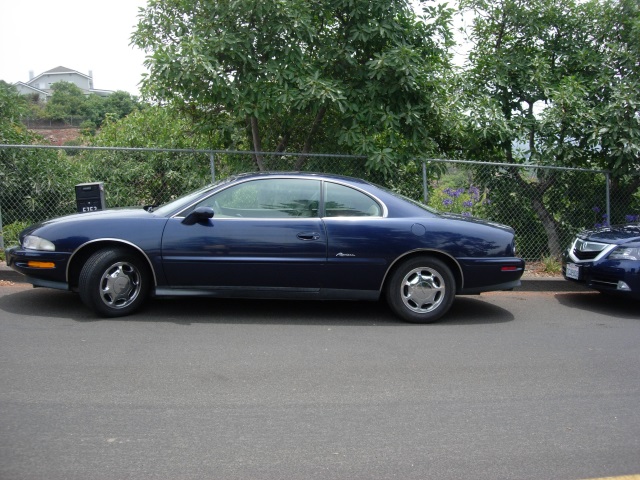 Lila and Bob Winger drove three hours each way in their 1998 to attend.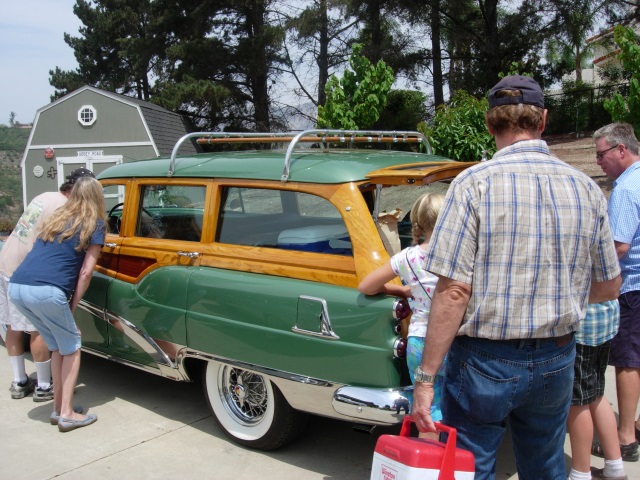 Woodie wagons have a magnetic draw, period. Erik Unthank, wife, son and daughter arrived in this '51 Roadmaster.
June 21, 2014, Brake Clinic, Special thanks to Nick Silva, owner of JLC automotive in Moorpark, for spending five hours with us on his brake clinic. A 1978 LXXV was put on the lift and used for the clinic. Thanks to all the members who attended especially member Sheryl McCabe and her friend Charlie who drove up from Long Beach in Sheryl's beautiful '65.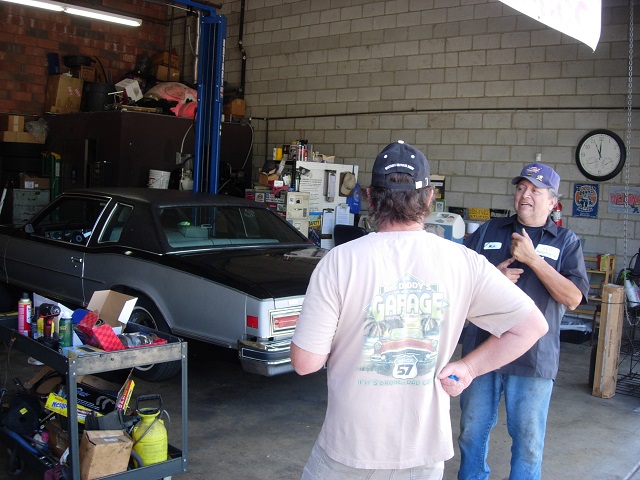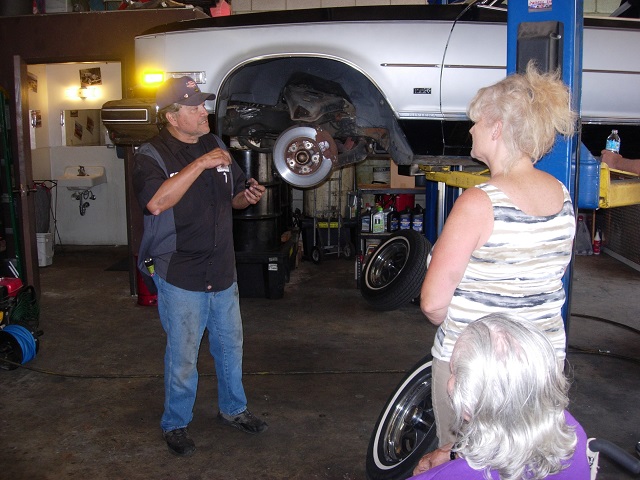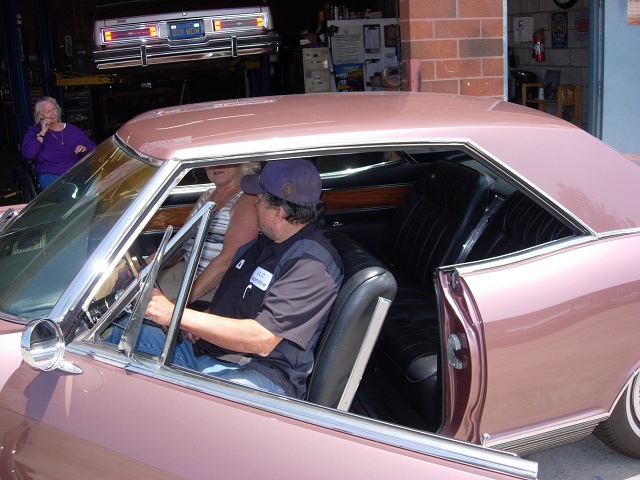 ---
WASHINGTON
John Andreassen # 1781
5442-A Schoth Rd. S. W.
Turnwater, WA 98512
360-754-3745 (Home)
360-481-3325 (Cell)
norseman63@comcast.net

---

Cancelled due to Brian's required shoulder surgery
September 6, 2014, Saturday, 14th Annual ROA Fall Potluck held at Brian & Ellen O'Neil's on Whidbey Island. This has always been such a great way to close summer events. No registrations fees. Bring a dish to share & enjoy the closing awards. All makes & models are welcome. We will have deep fried turkeys, fresh steamed oysters & an assortment of beverages. Please contact John for additional information.
Washington Event Recap
June 21, 2014, 21st Annual Buick Open, sponsored by the BCA chapter in Puyallup. There were 122 Buicks of which 26 were Rivieras, at this event that coincides with the Meeker Days Festival. An unusual blue and gray '63 with an extra headlight housing in the center of the original grille won best modified. The owner, David Rockett was a walk-in and is not a member of the BCA or ROA.
June 22, 2013 Twenty Six Rivieras filled the show field at the, 20th Annual Buick Open, sponsored by the Puget Sound Chapter of the BCA., held  in SE, Puyallup. This event coincides with the Meeker Days Festival. It was a great time for all who attended.
---
Upstate NY
May 3,2015: Rhinebeck New York
ROA members are invited to join with other Buicks in the Buick -Only Class. Park with us for the opportunity to meet And mingle with other Buick enthusiasts . Pre-register and indicate "Buick Club Parking" on your application , or ask for the class , day of show . No limit on the number of cars . Note: there is no judging in this class . More information can be found at www.unybca.com or by contacting Jim Jakubiak ROA 11083, 518-459-1136 . Open to all Buicks or Buick-powered vehicles.
May 30 , 2015: Saratoga Springs , New York
The Upstate NY Buick & Cadillac Clubs are holding their annual All Buick & Cadillac Lawn Show ( All Years Welcome ) at the Saratoga Auto Museum on Sat. May 30th ,rain date May 31st . The show runs 10am-2pm and will feature Dinosaur BBQ . For more info and registration form go to www.saratogaautomuseum.org or contact Jim Jakubiak ROA 11083, 518-459-1136
June 20,2015: Colonie New York
ROA members are invited to join us for the "Cruise in to Summer 7" presented by Upstate NY Chapter of the BCA and Goldstein Buick/GMC . Due to the popularity of this event it has been moved to Cook Park in the Village of Colonie NY 12205 . This is a fund raising event to benefit The Boys & Girls Club . Featuring Dinosaur BBQ , Cake From Cocadotts and ice cream . The first 100 vehicles making a minimum donation of $5 will receive $10 in food coupons . Event Hours 3pm - 8pm . Visit our website www.unybca.com or contact Jim Jakubiak ROA #11083, at junglejim810@aol.com or 518-459-1136 for more information .

---
Abingdon, MD
29th Annual All Buick Show
September 27, 2015, Sunday, 9:30am- 3:00pm The Buick Owners of Maryland invite ROA members to their Annual All Buick Show to be held at Boyle Buick-GMC 3015 Emmorton Road in Abingdon. All Rivieras, including custom and modified, are welcome. Advance registration is $12/car until September 1, $15/car thereafter. The gates will open at 9:30AM, judging begins at noon, and awards will be presented at 2:30 PM. For information and registration forms please contact Raymond Price, (410) 666-3905, rsprice2@netzero.net, or Hank Reus Jr. (410)-499-6196, dankerus@comcast.net. Visit www.bcaboom.org for registration, information and downloads.
---
BCA National Meet Recap
Buick Club of America
National Meet
July 23-26, 2014 – The BCA National meet was held in Portland, Oregon this year. The 800 members and guests enjoyed sunny skies and a view from the hotel of the Columbia River. More than 280 Buicks were on display of which 37 were Rivieras ranging from 1963-99. Of those twenty were from 1963-65 models.
Award winners were:
1963-70 Class
1963 owned by Ken Cousins, Camas, WA - Senior Preservation award
1965 owned by Alex Downie, Vancouver, British Columbia - Gold award
1968 owned by Dean Eldridge, Lake Stevens, WA - Gold award
1971-1999 Class
1995 owned by Jim Hartford, College Place, WA - Gold New Senior award
1999 owned by Robert Donald, Marysville, WA - Gold New Senior award
1990 owned by Daryl Eldridge, Lynnwood, WA - Gold award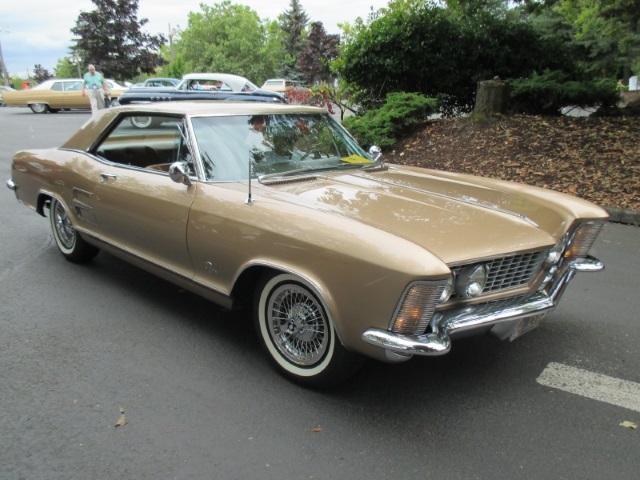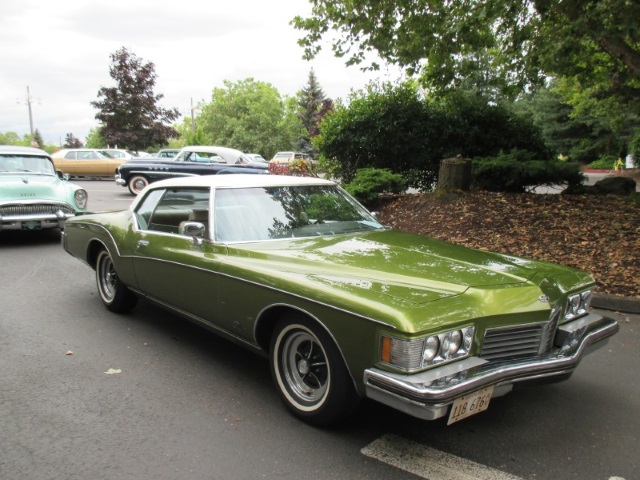 ---
Have you contacted your Regional coordinator recently? Now is a good time! They may need help or encouragement to get local activities planned.