NEW Arkansas
Kevin Ketelsen
30 Geraldine St.
Ward, Arkansas, 72176
501- 606-1224, Cell
rivingitup@gmail.com
Kevin is interested in hosting events for members throughout the state. He will be contacting members directly with dates and locations. If you do not have your email listed correctly on our roster, please contact Kevin.
---
Click here to read the September 2017 issue of the informative Australian version of the Riview with stories on local Rivieras and much more. (PDF 3 MB.
---
Queensland Region
Linda Hall, Co-ordinator
Queensland Australia Event Recap
May 4-7, 2017, Aussie ROA Nationals  This year our Nationals were held just over an hour  north of Sydney NSW on the Central Coast. We had 28 Registrations, including ROA members Gordon and Susan Wolfgang, who traveled down from the US. The event began on Thursday evening to register and enjoy a drink and meal  at our Meet and Greet.

Driving is a big part of our meets so Friday morning we drove 15 miles to the Gosford Classic Car Museum which has about 400 cars on display of various exotic marques and eras, including an interesting display of cars from communist countries. After a couple of hours there we drove 46 miles to a country pub called the Wollombi Tavern for lunch. It was a perfect opportunity for a group photo on te grass with the Rivs. At 6pm there was a casual dinner next to our accommodation at the Diggers Club.

On Saturday, we drove 10 minutes into The Entrance Town Centre for our car display and delegates voted for the favourite 3 Rivieras. There were lots of market stalls and cafes to enjoy the morning and the afternoon was free with an optional scenic ocean drive for those that wanted to drive some more. At 5pm we met for our first Tech Talk which was well attended and most found very interesting.

On Sunday morning we drove 42 miles to the " Lost in the 50's Museum" which was more up our alley with all American cars of the 50's and 60's and 10,000 pieces of automobilia. After spending a couple of hours there we drove 25 miles to the Kevin Sobels Winery in the Hunter Valley for a BBQ lunch. Members of the NSW Buick club were also invited to join us on Sunday, hence the other model Buicks in some pictures. In the evening, we had the Presentation Dinner in a private function room.

AWARDS PRESENTED
Brian Hall Award for Best of Show - 1968 Greg & Geraldine Massey NSW
2nd - 1971 Richard Mintrom NSW
3rd - 1972 Claus & Wendy Gronau NSW
John Padgett Encouragement Award - Gordon & Susan Wolfgang USA
Click here to view a slideshow of photos
Click here to view the full sized image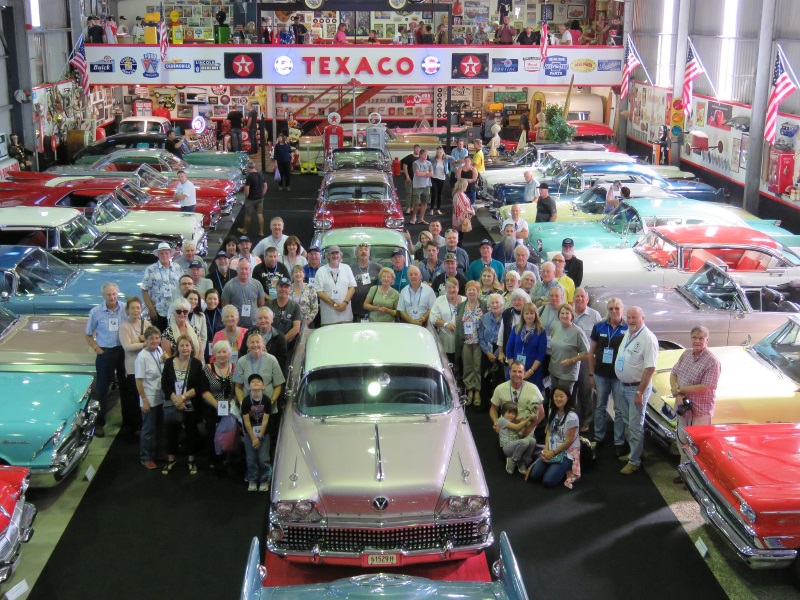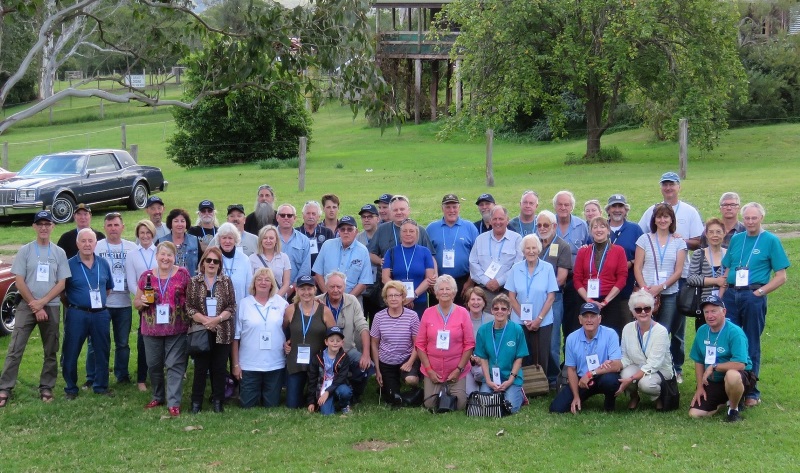 ---
CENTRAL FLORIDA
Bob Wannall ROA# 3069
1101 SE 56th Court
Ocala, FL 34480
(352) 690-7729
bobwannall@gmail.com
October 21, 2017, Saturday, 11:00 am – 3:00 pm. Join us for our one day October Cruise-In to historic St. Augustine. We'll gather at the St. Augustine Lighthouse & Museum, 81 Lighthouse Ave., St. Augustine, FL. www.staugustinelighthouse.org. Enjoy the grounds and gift shop, climb to the top of the lighthouse or visit the museum. For lunch we'll head to Mango Mango's Caribbean Grill and Bar 700 A1A Beach Blvd, St. Augustine Beach, FL. www.mangomangos.com. (Motto: So good you have to say it twice!"). It's tasty, laid-back island fare, just about 100 yards from the beach. After lunch there's plenty to see and do on your own in and around America's oldest city, St. Augustine.
There is no registration fee for this event. Just buy your own lunch and, if you like, lighthouse ticket. Dash plaques for the first 15 registrants. No judging, but we will present the Golden Pineapple Award for the wildest Hawaiian shirt. To register, e-mail Bob Wannall at bobwannall@gmail.com or phone at 352-598-3662.
Central Florida Event Recap
Sixth ROA Southeastern Regional Meet
May 18-20, 2017
Regional Coordinators Randall Crain, North Carolina & Bob Wannall, Central Florida
The Sixth ROA Southeastern Regional Meet is in the history books, with 30 members and their spouses and guests arriving in 19 classic Rivieras for the weekend of May 18-20.
Click here for photos and the rest of the recap!
October 1, 2016, The ROA was out in force at the 10th Annual NPD All-GM Oktoberfest in Ocala's Silver Springs State Park. Cars owned by two members drove away with top prizes -- among the more than 600 GM cars on display. Best Buick went to Steve Brisbois' modified '68, while Tim Collins' black '71 took Best Large Car.
A total 15 Rivieras with 23 members and guests enjoyed the clear, blue central Florida skies for our "ROA show within a show," along with four "guest" cars: a 1932 Chevy street rod, 1990 El Dorado, and a'69 Skylark GS400 convertible. We also gave ROA brochures to several other Rivieras owners at the show.
In addition, several members gathered on Friday evening before the show for open-house coffee and dessert at the home of Bob and Cindy Wannall. Steve Brisbois drove NPD's Friday cruise to Cedar Key on the Gulf coast.
Coming up: a cruise-in and picnic in the first quarter of 2017, and Southeastern Regional Meet in Ocala on May 19-20, 2017. Watch for more info.
---
Georgia
Keith Felderman # 9918
Johns Creek, GA
770-235-0406
kfelderman@comcast.net
October 7, 2017, Saturday, 11:00 am – 1:30 pm, Annual Georgia Pot Luck. The location will be at West Bank Park on the south side of lake Lanier (near the Dam).
We will be doing our usual pot luck lunch – where you bring a side or a desert and I'll grill some burgers and hot dogs for everyone.
We will have a group photo for the Riview after lunch. Below is a map of the location.
Please let me know if you will be making it and how many in your party (so I bring enough meat for everyone).
If you did not receive this announcement by email, then it is not listed correctly in the roster. Be sure to contact the ROA office with your correct email.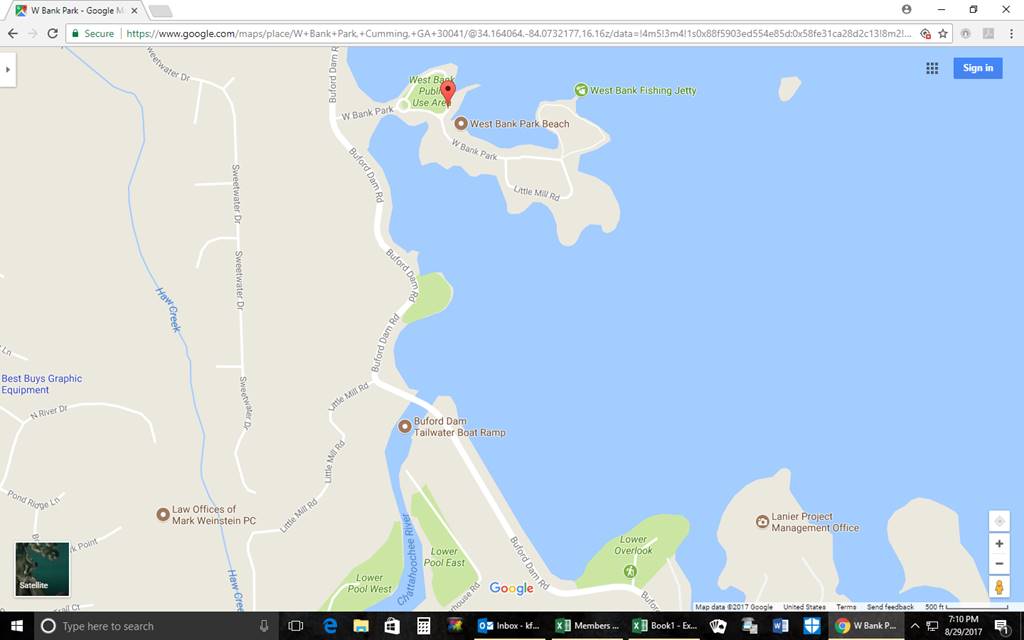 ---
NEW NORTH TEXAS
Winston McCollum #13242
Plano, TX
972-762-8391
gtohurstjudge@gmail.com
Meet our new Coordinator for North Texas. If interested in being involved in local events, be sure Winston has your correct email. He will be sending out announcements soon. Don't miss out.
September 24, 2017, Sunday, Noon – 4:00 pm, Join us for our region's inaugural event at the American Pride Car show, in Addison. It will be held inside a airport hangar at the Cavanaugh Flight Museum at Addison Airport. 4572 Claire Chennault St.
I suggest we meet at 11: 00 am so we can park together. Admission to the judged show is $25. While there we can check out the vintage World War II fighter planes and even have your car photographed with one. Please email me if you plan to attend. Winston McCollum, coordinator gtohurstjudge@gmail.com.
---
HOUSTON
Mark Bristol # 12152
19110 Shale Creek Dr.
Tomball, TX. 77375
832-643-8161 6-10pm
markb.roa@comcast.net
If you have a local meet or function in the Houston Galveston Area that you feel would be great for ROA members to attend contact me, Mark Bristol RC with details.
TOA MEMBERS:
All Toronado owners have an open invitation to attend any of our local ROA functions. We are sister clubs and encourage you to join us. So if you are a TOA member receiving my ROA email announcements this is why. Bring those Toronados out!!!
Houton Event Recap
May 20, 2017, Seven ROA members joined with 14 BCA members at an All Buick Picnic in Bear Creek Park. Despite a humid and windy day we all enjoyed burgers, hot dogs and plenty of side dishes. In addition to the many collectible Buicks there was a 2016 Cascada convertible.
October15, 2016, The 2nd Annual "Rivieras on the Ranch" was once again hosted by ROA member Hardy Rawls. A special thanks to Hardy for opening up his home and providing a catered meal consisting of BBQ, peach cobbler and sweet tea, the national drink of Texas. The temperature topped out at 89 degrees making it an unseasonably warm breezy day with sparse cloud cover.
There were 315 attendees, who brought 140 cars ranging from Model T's to modern super cars. Fifteen ROA members, including a member from Des Moines Iowa, brought eight Rivieras and two Toronados. Commemorative T-shirts were designed and available for purchase.
There are plans for a 3rd Annual "Rivieras on the Ranch" next fall. The invitation is open to all ROA & TOA members regardless of where you live.
---
Robert (Bob) Valenzuela
Northridge, CA
818- 391-3126
rval16011@aol.com
Bob is the new coordinator for the LA Region and hopes to hear from you with your suggestions for future events. Watch this page and the Riview for announcements.
---
MICHIGAN WEST
George Babcock #4808
460 N. Main
St. Allegan, MI 49010
269-673-3124
georgebabcock55@gmail.com
---
MINNESOTA
Ed Gunyo #101
5243 15th Ave So,
Minneapolis, MN 55417
(612) 824-9339

Annual Fall tour, details to follow.
In the planning stage is an overnight tour south to western MN to visit a private car collection with 80 cars. After a night's rest, onto Iowa to a private 40 car collection. We will then tour back to Minneapolis. About 300 miles total. Details to follow or contact Ed Gunyo at egunyo@msn.com
Minnesota Event Recap
May 20, 2017, we went on a Wine and Cheese tour in Wisconsin to six wineries and cheese factories. Despite the rain we had twenty people from the Riviera, Buick, Cadillac clubs come out and do the tour. We had lunch at a famous steakhouse and finished up the tour along the Mississippi River in Lake City.
August 19, 2017, we held our mid-summer tour west through the countryside to a private 60 car collection about 60 miles from Minneapolis. Then down to the famous French Lake Junkyard and on to the Mullner Heritage Vineyard & Winery. From there back on country roads to Buffalo MN to the Wilds Golf Course where we will have lunch at the club house overlooking the course. Our last stop was at a large antique mall in Buffalo.
---
SACRAMENTO
Craig Oleson #9484
Antioch, CA.
510-910-8261
riv652001@gmail.com
---
NORTH CAROLINA
Randall D. Crain #5360
2493 Banner Whitehead Rd.
Sophia, NC 27350
(336) 431-3854
ROA5360@aol.com
North Carolina Event Recap
September 16, 2017, Fifteen ROA members and guests met at Creekside Park in Archdale, for the Twelfth Annual "Rivieras at the Park". This was a record year with six of the eight generations in attendance! There was a '63, '65, '69, '70 GS, three '71s, an '81, as well as a '93, '95, and a '99, twelve in all. In attendance were a couple, of "rolling restorations", and many very nice cars including a '71, which was a previous Concours winner. Regardless of condition, having so many years represented gave us much to discuss.
Gwyn and I thank those who attended. It is the members' support that make it worth the effort. And, as usual, we hope to see you again next year on the second or third Saturday in September.

Left to Right: Front row: Charles Wood, Greg & Linda Pulling, Steve Vaglio, Jim Taylor, Debbie & Scott Morton, Sandra & Glenn Roberts, Gwyn Crain, and Ray Rapuano. Back row: Austin Jones, Brian, and Travis Holcomb.
Sixth ROA Southeastern Regional Meet
May 18-20, 2017
Regional Coordinators Randall Crain, North Carolina & Bob Wannall, Central Florida
The Sixth ROA Southeastern Regional Meet is in the history books, with 30 members and their spouses and guests arriving in 19 classic Rivieras for the weekend of May 18-20.
Click here for photos and the rest of the recap!
September 17, 2016, Eighteen ROA members and guests from North and South Carolina met at Creekside Park in Archdale, NC for the Eleventh Annual "Rivieras at the Park". Again this year the weather cooperated and we had a nice sunny low 80's day.
We had four of the eight generations in attendance, including a '63, two '65s, a '66 GS, a '93, two '95s, and a '97, eight Rivieras in all.
Some members were not able to stay for lunch, but of those that stayed were included in our group picture while standing in front of Wayne Updike's '66 GS.
Gwyn and I would like to thank those that attended. It is the members' attendance that make it worth the effort. We hope to see you again next year on the second or third Saturday in September, if all goes as planned.
---
NYC METRO
Darrell Ingold #1237
8 Gerald Drive
Holbrook, NY 11741
631-220-3239
ingolddj@optonline.net
NYC Event Recap
May 28, 2017, Seventeen ROA members attended the 38th Annual All Buick Show in Wantagh, Long Island. The show is hosted by the Long Island Chapter of the BCA and ROA members were invited. Of the 102 Buicks on display 19 were Rivieras. Several ROA invitations were handed out and we hope they will soon join.
Congratulations to Richard Harvey whose Surf Green '64 won Best of Show (pictured).Unfortunately, while driving to the show David Kemler's '72 was in an accident. David's '72 was featured in the July/Aug 2016 Riview. Fortunately, no one was injured.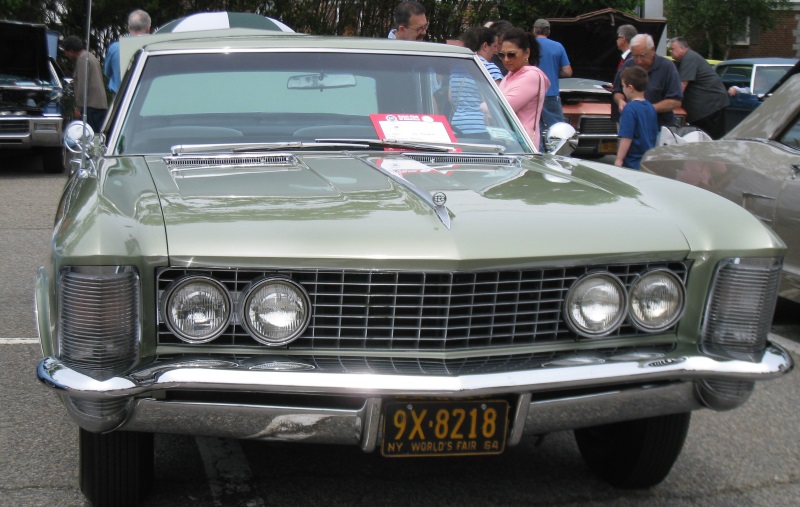 Pictured in the group (from left to right):
Richard Harvey, Kenneth Vasti, Carmen Vasti, Anthony Gatta, Howard Attanasio, Frankie D'Amore, Vincent Tomassetti, Tom Poole, Jeff Glazer, Bill Girimonti Vinnie Lipari, Darrell Ingold son Zachary. Others not pictured had left early.
If anyone would be interested in a "Riviera Cruise" in late summer/early fall contact Darrell Ingold, 631- 220-3239 or ingolddj@optonline.net. Suggestions for local events are encouraged.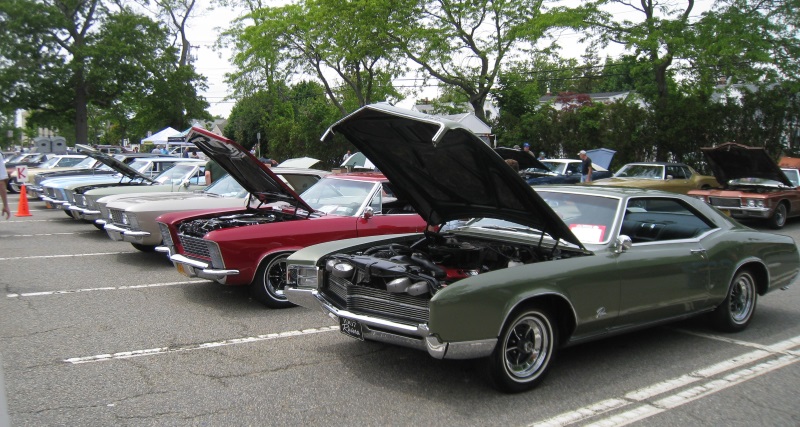 ---
OHIO
Don Walter #14287
Franklin, Ohio
937-672-9005 walted@earthlink.net
Other Events of Interest
September ( date to be announced) , Cincinnati Fire Museum http://www.cincyfiremuseum.com,
September (date to be announced) Beavercreek Ohio Popcorn Festival Car show ihttp://www.beavercreekpopcornfestival.org/carshow,
Other local events are announced in Show & Shine Calendar http://www.showandshinecalendar.com/ and Country Cruisers at http://www.countrycruisers.com/ (2017 events yet to be posted).
Ohio Event Recap
March 18, 2017, We held our initial Meet & Greet at the Americas Packard Museum in Dayton. Nine members and their guests from throughout Ohio and Kentucky attended.
After we took some time to get to know each other, we discussed future events. Although those who attended are close to SW Ohio we will continue to email others within a 175 mile radius. If you are out of that range and wish to be included, please let me know. We will try to move the gathering around to be more convenient to all. A special thanks to Bob Signom who has very graciously offered us the use of the Americas Packard Museum as a home base.
I will start working on our Show & Shine for Early May. I would love to have many suggestions as to where & when. One suggestion was Big Bone Lick State Park in Northern KY, http://parks.ky.gov/parks/historicsites/big-bone-lick/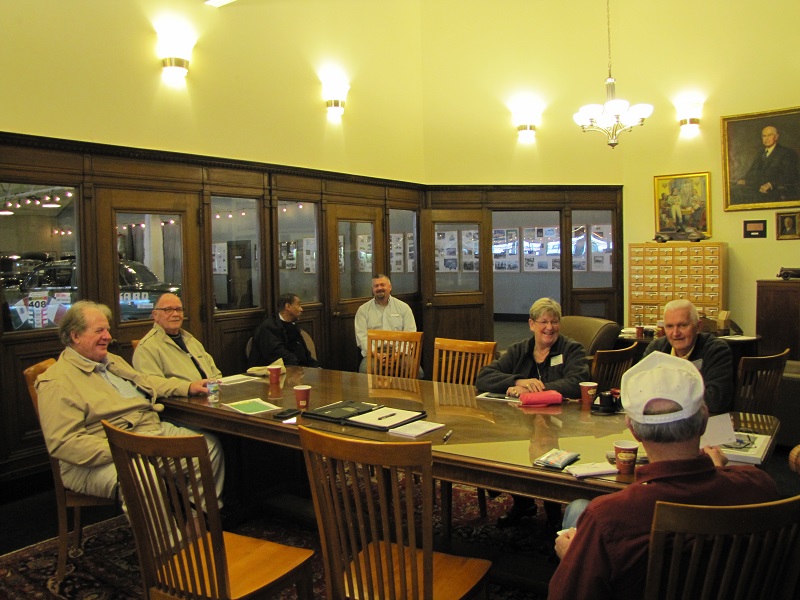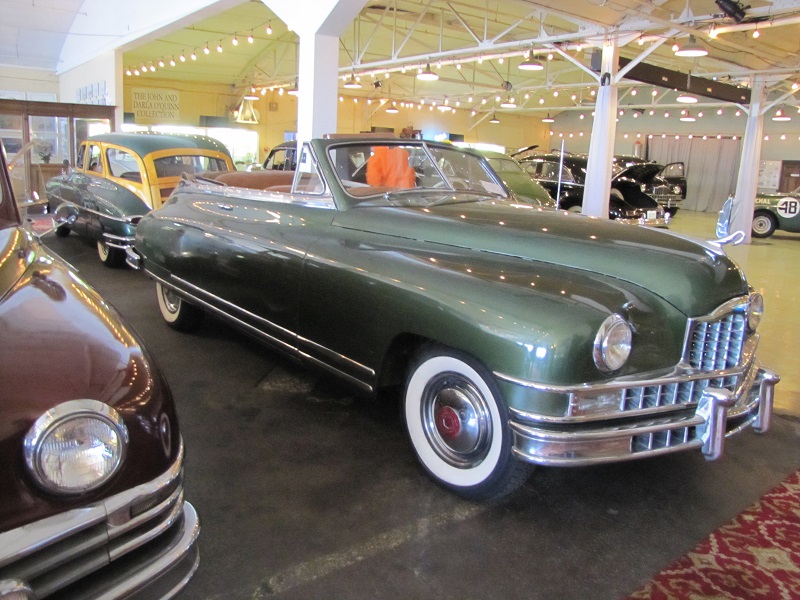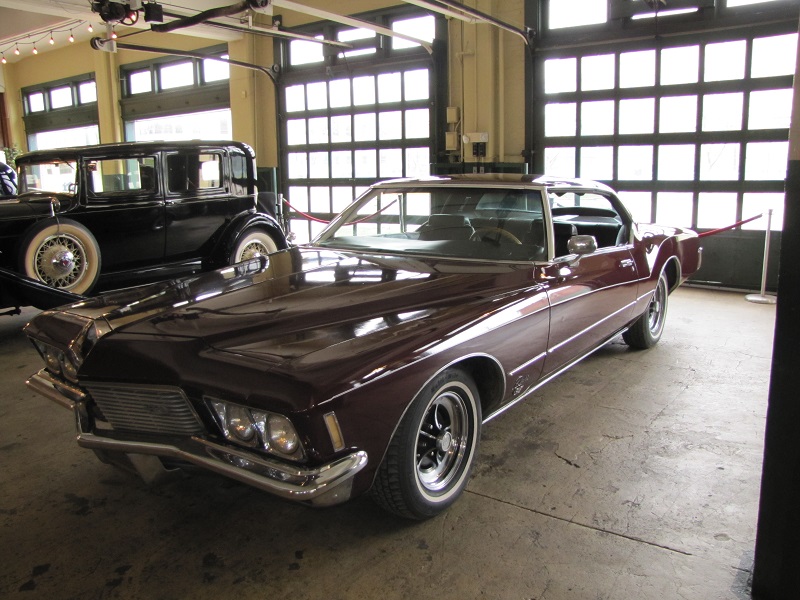 ---
SAN DIEGO, CA
Lee Carroll #433
P. 0. Box 87923
San Diego, CA 92138
(619) 226-6993


San Diego Event Recap
April 23, 2017, ROA members spent a pleasant afternoon at the Cooley Auto Museum that ended with a visit to one of this areas premier Italian restaurants. The Cooley Museum features dozens of early automobiles ranging in age from from an 1886 3 wheeled Benz with a 3/4 Horsepower engine up to an XP 2000 Buick concept car. Parked nearby them is an 1885 4 wheeled Benz Velo considered one of the 1st mass produced cars in the world. Cooley's Museum also displays 25 separate categories of antiques including a 1900 Wurlitzer organ, 1 of the 1st Edison Victrolas & a vast collection of model trains & exotic early American gadgets.
The outing ended with a late lunch at De MIlles Italian restaurant, one of San Diego's foremost family Pizza Parlors.
February 25-26, 2017, ROA members hosted a tent at the 51st Annual 3 day Big 3 Swap Meet at Qualcomm Stadium. As always, the event drew crowds in the tens of thousands with 2,000 vendors who sold automotive parts and literature.
The ROA Hospitality tent was manned by members Lee & Reid Carroll, Fred Young & Ken Lund, who handed out over a dozen ROA applications. They also helped Riviera owners find parts & shops capable of working on their cars.
An Australian selling Didgeridoo's stopped by to play Amazing Grace on the aboriginal musical instrument
---
SOUTH AFRICA
Chris Palk ROA#10373
PO Box 1333
Krugersdorp 1740 South Africa
2711-660-1322 (office)
2782-808-3360 (cell)
c_palk@uskonet.com
---
Ventura / Santa Barbara Counties
Lee Pickett # 10039
900 Calle Plano unit E.
Camarillo, CA. 93012.
805- 807-9592
leroy1492@gmail.com

Cruise Nites, First Saturday of the Month, 4pm- 7pm at the Islands Restaurant 935 Broadbeck Drive, Newbury Park. Hope to see you there!
Ventura Event Recap
August 28, 2016, Members met at the home of Robert Valenzuela in Northridge. Robert talked to us about the restoration project of his 1965 Riviera. We also talked about getting our cars ready for the 2017 ROA International meet in Reno this coming June.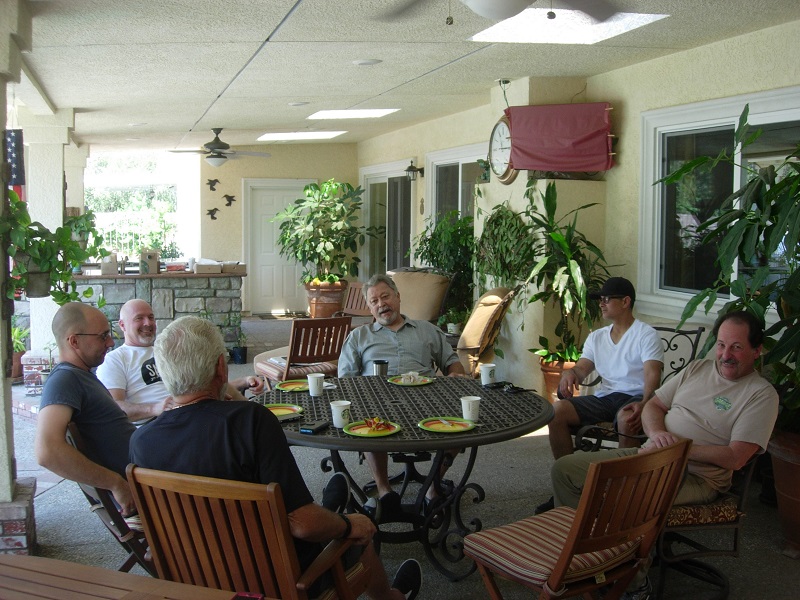 ---
COLORADO
Mike McCoy #30
Broomfield, CO
303-775-8118
mcriv301@gmail.com

Colorado Event Recap
September 10, 2017, Six ROA members and their cars ranging from 1963-72 joined with members of the Mile-High Chapter of BCA at its 5th Annual All-Buick Car Show. The show was held at the AutoNation Buick GMC Park Meadows.in Lone Tree. The event included free food and drinks, music, door prize drawings for participating car owners, and popular vote award categories.

ROA# 652 Roger Dieterman-65 GS

ROA# 2481 Rex & Fran Buell-63

ROA# 7892 Vic Cionetti-64

Vic Cionetti

ROA# 10704 Frank Longo-72

Jeff Barris-72
June 17, 2017, Six Rivieras were on display at the Rocky Mountain Buick Show in Loveland, hosted by the local BCA chapter. If you failed to attend, you missed a fun afternoon.
We have more events planned for this year and emails will be sent to members. If you have not been receiving my emails let me know at mcriv301@gmail.com .
May 6, 2017, Saturday, Four members met at Great Scotts Eatery, just off the Denver / Boulder Turnpike for our first regional Meet & Greet. Pictured are Jeffrey Davis, Roger Dieterman and Ron Faleide. We discussed future gatherings, some of which may include  tours of local auto related businesses, flowed by lunch. If interested contact coordinator Mike McCoy to be sure he has your correct email.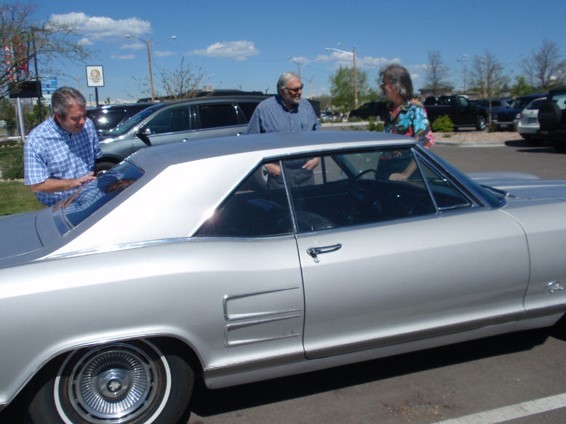 ---
WASHINGTON
John Andreassen # 1781
5442-A Schoth Rd. S. W.
Turnwater, WA 98512
360-754-3745 (Home)
360-481-3325 (Cell)
norseman63@comcast.net

September 9 2017, Saturday – CANCELLED due to health issues
Washington Event Recap
June 17 2017, Saturday – Of the 102 Buick's at the 24rd Annual Buick Open, 20 were Rivieras The annual event was sponsored by the Puget Sound Chapter of the BCA and coincides with the Meeker Days Festival. The winners in the Riviera classes were:
1963-65 1st Place Les Rider (1963)
2nd Place James & Anita Hansen (1963)
1966-70 1st Place Glen Weller (1966)
2nd Place Dean Eldridge (1968)
1971-99 1st Place Cathy Meyer (1973)
2nd Place Lee Davis (1985)
Modified 1st Place Anita & Jan Foss (1970)
September 10, 2016 15th Annual ROA Fall Potluck was held at Brian & Ellen O'Neil's on Whidbey Island. Out of 19 cars ten were Rivieras. This has always been such a great way to close summer events. All makes & models were welcomed. We had deep fried turkeys, fresh steamed oysters & an assortment of beverages.
---
---
---
---
Have you contacted your Regional coordinator recently? Now is a good time! They may need help or encouragement to get local activities planned.