AUSTRALIA REGION
Brian Hall # 10723
P.O. Box 383
Cleveland Qld. 4163
Australia
617-3829-2222
brianhall.hall@gmail.com
To view a copy of our April 2014 newsletter click here.
May 22-26, 2014, ROA Australia Meet  will be held in  Bathurst, New South Wales. So as not to clash with the 2014 Buick Nationals in Western Australia,
We have some interesting and hopefully enjoyable things to do and places to see so put these dates in your diary now.
Our host motel will be the Bathurst Motor Inn. They have very kindly given us 2013 rates for next year and have a range of rooms and prices from $85 to $155 plus 2 bedroom units and a 3 bedroom cottage up to $215. They will hold these prices for our group until 2nd April 2014. When you contact them to book you MUST SAY YOU ARE WITH THE ROA GROUP and a deposit equivalent to 1 night's accommodation is required. Contact for Bathurst Motor Inn is 02 6331 2222 Email: sales@bathurstmotorinn.com.au.
Click here to view a registration form (PDF) and menu (PDF) for the 2014 meet.
Australia Event Recap
March 30, 2014," Riviera's Day Out" was celebrated at the Yarra Valley Museum, Melbourne. The day was organised as a prelude to the ROA Australian National Meet at Bathurst NSW this coming May. The weather was beautiful for a perfect day to view the 13 Rivieras on display brought by 32 happy members. There were plenty of things to see around the Museum, as well as enjoying the company of the proud owners, family and friends.
The cars were displayed in chronological order so it was easy to see the design evolution of the Riviera from 1963 through '74. Peer judging was conducted so that everyone could review and then vote for their favourite Riviera. A 1967 owned by Steve McCluskey received the People's Choice Award.
Our Thanks to ROA member Tom Kunek for organizing this event.
ROA Australia Region Meet
September 6-9, 2012
 Brian & Linda Hall, Coordinators
Tuesday, 4th September Linda and I set off for the two day drive (800 miles) to Griffith in New South Wales for the 2nd ROA Australia Region Meet.  With all the gear required for the Meet,  my '78 Silver Anniversary and Linda's '64 were well packed, especially as we had invited two friends to join us on the run.
Other Rivieras on their way to Griffith met us along the way - John and Laurene Forster in their '65, Kay and Doug Hawkins in their '72, Ian and Nola Woodward in their '71 and Geof and Lynn Walker in their '68.  A convoy of 6 very nice Rivieras drove into Coonabarabran for an overnight stop.
All through this country area we were treated to some fantastic rural scenery with seemingly never ending fields of flowering canola and young wheat - a spectacular patchwork carpet of bright yellow and green.
Next morning we all headed off for the day's drive to Griffith.  Unfortunately strong winds and dust storms made driving less than pleasant.  But we all arrived safely and the boys were up early to clean down the cars next morning.
Thursday saw most of the ROA entrants arrive at our host hotel, the Kidman Wayside Inn.  After checking in and collecting their goodie bag, everyone enjoyed some beers, pizzas and lots of chatting and yarning - catching up with old friends.  A great night was had by all.
Griffith is a town in the centre of the area known as the  Riverina.  The Riverina is noted for its agricultural industries and its unique system of canals which were built in the 1920's to provide a reliable supply of water for the farms.  Friday was the first day of our rally and we headed out of Griffith for the 1 hour drive to Leeton, another small Riverina town.  Here we enjoyed a tour of a local fruit packing facility, a fascinating tour of the Roxy theatre - an art deco theatre built in the 1930's and still operating, and lunch at the historic Hydro Inn the former home of the construction workers who built the canals.  One of Australia's most famous wine makers, McWilliams, were great supporters of our event and we all enjoyed a visit to their cellar door.  Many boxes of wine were carried out to the Rivs parked in the grounds.
Saturday's run took us to a gourmet food manufacturer, Riverina Grove - home of the 'bum hummers' (a particularly hot chilli style of pickled onions).  Then on to morning tea at a lavender farm where there was also a display of vintage tractors and some sports cars.  A visit to a small winery completed our morning activities before we headed to the very small village of Rankins Springs for a real country style bar-b-q lunch.
Our evening meal was a very nice buffet at the Griffith Leagues Club and several members of the local Griffith Custom & Classic Car Club joined us for the evening.
Our Show and Shine was held on Sunday morning and 27 great looking Rivieras lined up on the oval next to the Leagues Club.  The local Griffith Car Club also joined in with more than 25 classic cars also on show.  The club also very generously provided morning tea for everyone - really great country hospitality.
Sunday lunch was a home style lunch at the Pioneer Village - a fascinating example of life in bygone days.
Our Presentation Dinner on Sunday night was celebrated with an excellent meal at the Leagues Club.  There was much amusement at the 'novelty' awards and much discussion trying to get the answers to some tricky competitions.  Trophies were awarded to the People's Choice winners in various categories.  Winners were -
1963 - 1965     Rob and Lyndal Croxford - in their very nice 1965
1966 - 1970     Phil and Mary Green - in their beautiful 1966
1971 - 1973     Colin and Dawn Castle -  in Tony and Barbara Gentilcore's immaculate 1971
1974 - 1985     Bob and Jan Caleo - in their as new 1979.
The perpetual trophy (donated by Tim Harper) for People's Choice of the Show went to Bob and Jan Caleo - 1979.
The perpetual John Padgett Encouragement Award (donated by Phil Green) went to Tony and Barbara Gentilcore.
Congratulations to all the worthy winners.
Monday morning saw most of us up early and packing ready for the trip home - for us, another 2 day drive.
It was a great weekend of driving Rivieras, looking at interesting places and enjoying the wonderful fellowship that is what makes the ROA people such a great group of people.  We're looking forward to the next ROA Australia Meet in 2014.
It would be great if some of our fellow USA ROA members could come to Australia and share ride in our Rivieras at the 2014 Meet.
---
CENTRAL FLORIDA REGION
Bob Wannall ROA# 3069
3699 SE 54th Ct.
Ocala, FL 34480
(352) 690-7729
bobwannall@gmail.com (NEW)
March 15, 2014, Saturday, 9:00am- 3:00pm, The Marion County Tax Collector's Car Show here in Ocala. Yes, he's a big auto buff, and has a reproduction Ford Model A racer with a genuine Miller engine. We've arrived with a group of Rivieras for several years, and it's always a nice show, nice cars, activities for the kids, music, etc. Cost is $15 by March 1, $20 on the day of the show. If you're interested in this show, register with them using the form in their email, and then let me know you're coming. We'll arrange to arrive and park together. Click here for flyer and registration form.
Here are two other events let me know if you plan to go to either of these events.
FINALLY -- I'd love to have an event around Orlando or Tampa so we can reach more members in the more southerly reaches of Central Florida. Any ideas anyone? Call or write. I'd love to hear.

There is no NPD Oktoberfest this year because it would happened just as Silver Springs is being acquired by the state of Florida. We hope it will return next year, but meanwhile we're carry on with our Central Florida gathering.
More info coming soon: continue to check this website and your e-mail. Please be sure ROA Intergalactic HQ in Denver -- office@rivowners.org -- has your current e-mail address.
4th Annual ROA Southeastern  Regional
Asheboro, NC
May 15-17 2014, (Thursday – Saturday)
Come join us for some Southern hospitality, great cars and good friends. We'll be touring the North Carolina Aviation Museum and Hall of Fame along with a tour through the country side and the NC Pottery Center. And, then on Saturday, we will be having our car show with peer judging at Richard Petty's Museum! Yes, that is the 7-time Champion of NASCAR's museum. It should make for a great time and a very memorable weekend! Click here for a Schedule of events and registration form.
Central Florida Event Recap
November 9, 2013  ROA Autumn Gathering, Ten members from Central Florida met at Burnyzz Speed Shop in Ocala.  We toured the car collection on the showroom floor, saw the shop facilities and enjoyed a very helpful tech session with owner Josh Hart and his staff. Then we watched ROA member Steve Brisbois put his award-winning '68 on the Burnyzz dyno. Steve's tricked out 430 made so much torque that the car was spinning the rear wheels on the dyno rollers. Alas, with all that torque the rear end shifted to the right and the rear tire blew when the sidewall rubbed the dyno frame. Steve didn't get a reading, but made a great boom and a lot of rubber smoke. Fortunately, the original, unused spare still filled with 1968 air was in the trunk and ready for (limited) service.
After the "big show," we made our way to a local drive-in restaurant for good company, tales of Rivieras, and to spin a few yarns. Participants included Steve Brisbois, Dick & Irene Morin, Artie & Linda Smith, Nate Thomas, Dennis Thulin, Paul & Debbie Grassi, and Bob Wannall. Watch for information about our Spring Gathering in early 2014, and plan to be with us (and in Colorado Springs in June).
October 6, 2012, A baker's dozen of Rivieras from all around Florida turned out for the region's annual gathering at the 2012 NPD All-GM Oktoberfest, in Silver Springs Park near Ocala, FL.
Jim and Carol Kilroy won the award for best large car 1949-1969 with their 67 Riviera. Ray Copeland's 1971 was announced as winner of the Best Large Car 1970-1979, but he'd had to leave a few minutes before the awards and so the prize went to the next highest scorer. Nevertheless, two ROA members' Rivieras got nods this year, and that coming on the heels of Steve Brisbois' '68 winning the Best Buick Award at the last year's Oktoberfest.
The weather was warm and we had a brief afternoon shower that caught a couple of our members with their power windows down! Artie Smith unfurled a couple of umbrellas over his windows until Linda returned with the car keys. Dick and Irene Morin were on a glass-bottom boat ride, but a few folks found beach towels to cover the openings against the shower. We mostly agreed it was helpful for clearning the dust off the cars, got out the microfiber towels, and had the paint sparkling again.

ROA members' cars are definitely crowd pleasers at this annual event. Thanks again to Rick Schmidt of National Parts Depot for positioning the ROA in a great spot with lots of spectator traffic, nearby shade trees on green lawns, and the hamburger stand just a few steps away. Mark your calendar for the first Saturday in October in Silver Springs and join us next year:
---
FLORIDA SOUTH ATLANTIC
Bob Brumbaugh # 12549
8116 7th Pl S
West Palm Beach, FL 33411-5434
561 795 4054
rivierabob@bellsouth.net
November 1, 2013, Saturday, Noon to 4 PM at Kobosko Crossing,9100 Forest Hill Blvd. in Wellington. There are several small shops there selling pizza, ice cream and sandwich wraps and my wife's Banana Nut Bread. This is east of State Road 7 and West of Florida Turnpike. If coming from the south get off at Lake Worth Rd. and from the north, Southern Blvd. From the Interstate go west on Forest Hill Blvd. For additional information, contact Coordinator Bob Brumbaugh at 561-602-1518.
4th Annual ROA Southeastern  Regional
Asheboro, NC
May 15-17 2014, (Thursday – Saturday)
Come join us for some Southern hospitality, great cars and good friends. We'll be touring the North Carolina Aviation Museum and Hall of Fame along with a tour through the country side and the NC Pottery Center. And, then on Saturday, we will be having our car show with peer judging at Richard Petty's Museum! Yes, that is the 7-time Champion of NASCAR's museum. It should make for a great time and a very memorable weekend! Click here for a Schedule of events and registration form.
Weekly Events
Monday, 5-8pm, Southeast Rods & Customs Pirate's Well Restaurant and Bar 9477 Hwy Alt. A1A Lake Park, for more info Call 561-629-7020
Tuesday 5-8 pm, PBC Classic Car Shows, Grand Tavern 710 Linton Blvd. Delray Beach. for more info. Call Jean @ (561-704-0669
Wednesday 4:30-8pm, PBC Classic Car Shows, at the City Pub 956 South Federal Hwy. Deerfield Beach, for more Info. Call Jean @ (561-704-0669
Wednesday 5-9 PM, at Big Al's Pizza, Highland Park Plaza, Belvedere and Sansbury SW corner for information contact Bud 758-7144 or Rick 882-1330.
Friday nights -Fosters Cruise Night at Costco's on Southern Blvd. West of 441
Second Saturday 4:30-8 pm, Free show sponsored by PBC Classic Car Shows, Gander MTN 100 Gander Way Palm Beach Gardens.
Florida South Atlantic Event Recap
April 6, 2013, A group of us meet at Kobosko Crossing in Wellington to discuss Rivieras and renew friendships. We hope to see you in November at our next gathering.
Ray
November 3, 2012, The "ROA Gathering" at Kobosko's Crossing, in Wellington was a success. We had 6 cars including my 73, which included; Bob Bishop's '63 Steele Cooper's '63,,Ben and Wanda Dunbar's '64, David Froehlich's '72 and Mac Goldberg's '77.
---
GEORGIA REGION
Keith Felderman # 9918
5485 Taylor Road
Johns Creek, GA 30022
770-235-0406
kfelderman@comcast.net
4th Annual ROA Southeastern  Regional
Asheboro, NC
May 15-17 2014, (Thursday – Saturday)
Come join us for some Southern hospitality, great cars and good friends. We'll be touring the North Carolina Aviation Museum and Hall of Fame along with a tour through the country side and the NC Pottery Center. And, then on Saturday, we will be having our car show with peer judging at Richard Petty's Museum! Yes, that is the 7-time Champion of NASCAR's museum. It should make for a great time and a very memorable weekend! Click here for a Schedule of events and registration form.
Georgia Event Recap
October 12, 2013, Twenty members of the ROA  gathered  at Webb Bridge Park in Alpharetta for our annual Fall Pot Luck Picnic.  The "government shutdown" forced us to change our  location at the last minute, but they couldn't stop our members from getting together and having a good time.  The weather was perfect and we had eight Rivieras on display.  Don McClair brought out his beautiful freshly restored '65 Gran Sport..  We had to alter our plans to grilling because of the venue change so instead we all enjoyed turkey and ham sandwiches along with the side dishes the members brought.  Everyone had a great time enjoying the great cars, good food and conversation.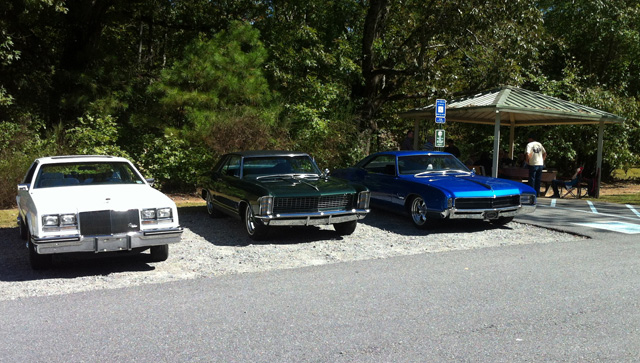 Left to right:-'85 Art Haggett,'65 Don McClair'67 Keith Felderman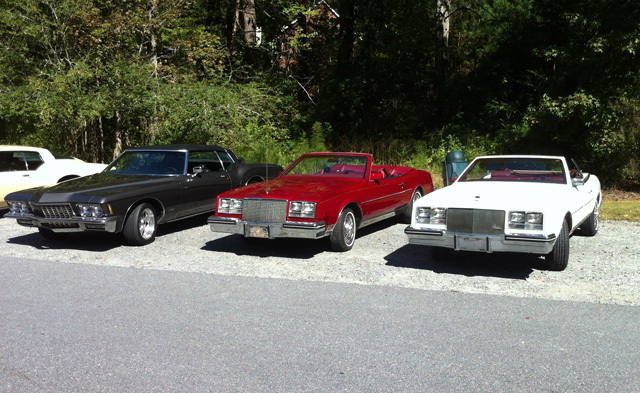 Left to right - '72 Russ Norris, '82 John Schrapper, '84 Chris Miller
Left to right - '65 Jody Ritt, '72 Adam Decker
April 20, 2013- The ROA members from Georgia met at Red Top Mountain State Park on the shore of Lake Allatoona.  It was a beautiful setting for all to enjoy however the weather was brisk and cool.  We had a total of eight Rivieras and thirteen members.  We all enjoyed a pot luck lunch with hamburgers and hot dogs made by my wife Susan.  Thanks to all whom attended and I look forward to seeing all of you at our fall meet at West End Park on the south side of Lake Lanier on October 12th.
---
HOUSTON REGION
Mark Bristol # 12152
19110 Shale Creek Dr.
Tomball, TX. 77375
832-643-8161 6-10pm
markb.roa@comcast.net
If you have a local meet or function in the Houston Galveston Area that you feel would be great for ROA members to attend contact me, Mark Bristol RC with details.
TOA MEMBERS:
All of the Toronado owners have open invitation to attend any ROA function. We are sister clubs and our National meets are joint club functions. Here in the Houston Region it is the same!!! So if your on my email list and have been getting ROA announcements, this is why. Bring those Toronados out!!!
Houton Event Recap
March 30, 2014, ROA Annual Spring Picnic was again held at Spring Lake Park in Tomball, where it was a gorgeous 77 degree spring day. Members from the ROA & TOA brought ten Rivieras and two Toronados. Several members came without their cars as well. Hamburgers and hot-dogs and several wonderful sides and deserts were served up to a enthusiastic group. The main topic of discussion was plans to attend the ROA National Meet this June in Colorado Springs. At this time, the Houston Region has 13 members with confirmed reservations for the international meet. We have three groups all meeting in Amarillo for the last leg of the cruise. We also welcomed a new friend as a guest today, James Bartlett with his beautiful 1966 Riviera GS. It was one of our best picnics ever!
---
Darwin Falk # 2077
1904 Morgan Ln.
Anaheim, CA 92802
714-740-0101
Riviera66@aol.com
http://www.roasocal.org/
Los Angeles Event Recap
February 15, 2014, Twenty two members of the ROA and TOA combined joined members of a SoCal antique truck club for breakfast at IHOP followed by a personalized tour of the private Day Family Auto Museum in Corona, CA. We had a great time eating (we filled an entire dining room) and then touring the collection; the focus at the Day Family Museum is American 50s/60s cars, but with over 100 cars and insufficient room to display them all at once, there's a little of everything there. We even got a tour of the back 'garage' area for the collection.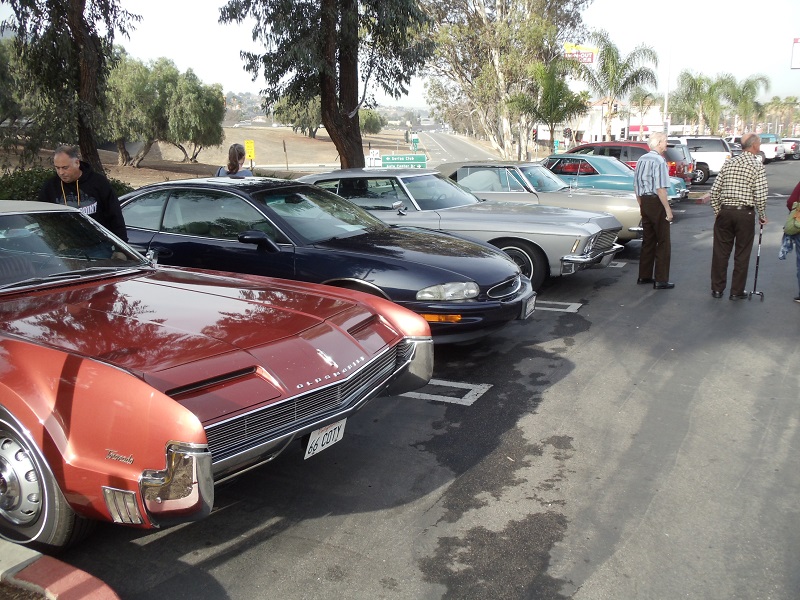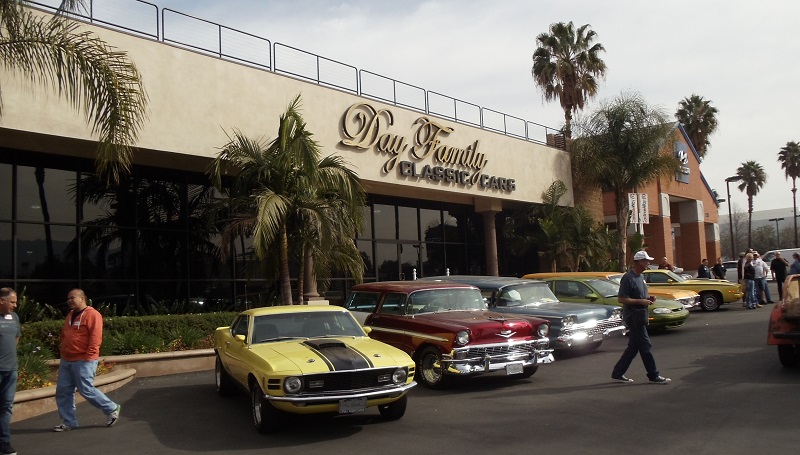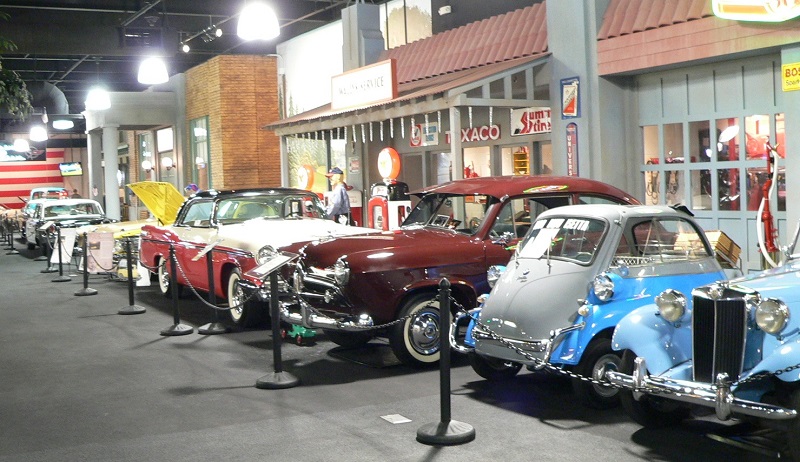 October 12, 2013,  ROA & TOA members met for breakfast at Polly's Pies in Orange.   A record turnout of 15 ROA members, four with dual memberships and two from TOA filled the restaurant's entire patio.  The restaurant was so excited to host us  that they raffled off a pie; the winner was Carole Nix.  We had eight Rivieras and one Toronado driven to the event.  Given how great the food, location, and turnout was, you can be assured we'll return to this location for a future event. Check this website or roasocal.org for news of upcoming events in the LA/OC region.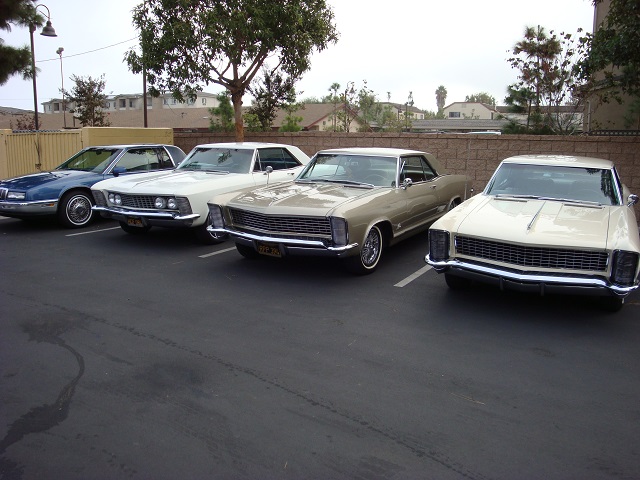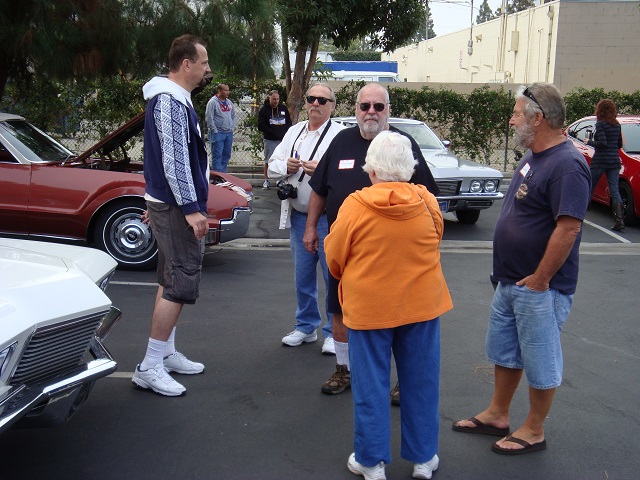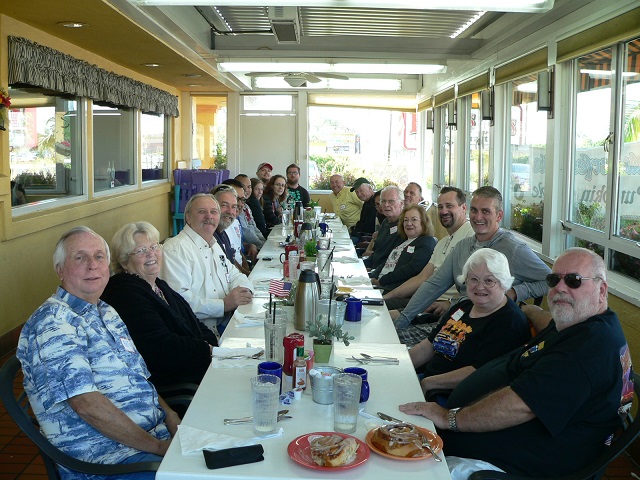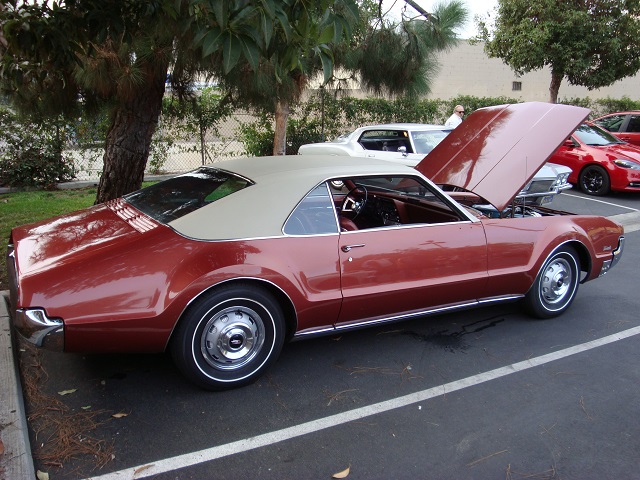 The June 2nd Swap Meet of Riviera and Toronado parts held at my house in Anaheim was generally a success.  There were a total of 5 sellers participating and an unofficial tally of about 15 shoppers; I was especially pleased to see some Toronado activity at this event.  The weather cooperated (not too hot) so it was a pleasant morning.
April 27, 2013, A total of fifteen people showed on for our "Rise & Dine" breakfast at the  Katella Deli in Los Alamitos. Twelve were from the ROA, two from TOA and myself with dual membership. New ROA member Bob Winger # 14013 drove 140 miles from Tehachapi in his newly purchased Riviera and turned the weekend into a family visit.
April 7th, 2013, OPGI Show, We had superb attendance at the OPGI show with 14 Rivieras on display! There were a particularly large number of 1st generation Rivieras, by my count 10 of the 14.  I am hopeful that 3 new members to ROA will result from the show. Unfortunately the cars were scattered so we were unable to get a group shot. Pictured are a few of the cars on display.
---
John Hare #11011
17900 Mill Creek Dr.
Derwood, MD 20855-1021
301-947-8535
john.hare@rocketmail.com
March 28-29, 2014, AACA - SMR's 44th Annual Antique Auto Parts Meet.
Free admission, Doors open at 8am Carroll County AG Center, 706 Agriculture Center Drive, Westminster.
Click here for the flyer with more information.
Maryland Event Recap
April 6, 2013

On Saturday, April 6, we were invited by the Vintage Chevrolet Car Club of America (VCCA) to join them on a tour of the National Cryptologic Museum followed by lunch at a nearby restaurant. The museum, operated by the National Security Agency (NSA), is located just outside Baltimore in Ft. Meade, MD. Next to the museum is the National Vigilance Park (NVP), where three reconnaissance aircraft are on display highlighting the role and sacrifices of our country's aerial reconnaissance programs. Everyone learned much about cyphering/cryptology and the Cold War/Information Age on our guided tour and through the interactive displays. They even have cyphering activities for kids which was great as we had several in the group.
May 5, 2013

On Sunday, May 5, we were invited by the Buick Owners of Maryland (BOOM) – the local chapter of the Buick Club of America (BCA) – to join them on a tour of Hampton Mansion in Towson, MD. Hampton Mansion, operated by the National Parks Service, is a national historic site and was the largest private home in America when it was completed in 1790 and is still considered to be one of the finest examples of Georgian architecture in the U.S.
September 22, 2013
On Sunday, September 22, a small group of Maryland ROA members gathered at the Bruster's ice cream shop in Gaithersburg, MD. It turned out to be a beautiful day, despite all the rain we had the day before. A couple members had finicky cars that did not want to start that morning (mine included), but we still showed up and had a good time talking about Rivs, sharing our favorite local restoration and parts shops, and of course, eating ice cream.
---
John Root # 5011
6256 W. Carpenter
Flushing, MI  48433
810-732-5979
jcr64riv1@comcast.net 
April 26-27, 2014, Saturday, All Buick Show and Race day in Norwalk, Ohio. Peering judging on Saturday and racing on Sunday at Summit Motorsports Park.. Click here for the flyer.
July 27, 2014, Sunday, 2:00pm – Annual ROA Pot Luck at my home, 6256 W. Carpenter Rd. Flushing, Michigan. Bring a Dish to pass & your beverage of your choice. Please R.S. V.P. by July 25 at jcr64riv1@comcast.net or 810-210-6292
September 6, 2014, Saturday, Michigan Buick Bash at Turkey vile , MI. Open to All Buick Owners. More information to follow.
September 12& 13 ,2014, Saturday- Sunday, Pure Stock Muscle Car Drag Race at Mid –Michigan Motor Plax in Stanton Michigan.
October 11,2014, Saturday, A Fall Color tour is in the works . More information to follow.

Michigan Event Recap
July 30th, Pot Luck, Ten ROA members gathered for an enjoyable afternoon with good food and conversation. In attendance were; John & Mary Root, Gil & Pam Moorman, John & Anne Pierce, Jim & Jackie Booth, Albert & Kathie Anderson.
---
MINNESOTA REGION
Ed Gunyo #101
5243 15th Ave So,
Minneapolis, MN 55417
(612) 824-9339

May 17th 2014. Saturday, 9:00 am- late afternoon, Annual Spring Tour. We will meet at 9:00 am in Long Lake the shopping center on the left side of Wayzata Blvd and Lake Street and leave at 9:30 am to travel on country roads. It is about 75 miles from Minneapolis. We will have lunch at the Lakeview Country Club restaurant then travel a short distance to the Historic Cold Spring Brewery for a tour. Then travel to historic St. Johns University campus where a former graduate will give us a tour of the campus. From there back on the country roads to Minneapolis. For more updates and details contact Ed at 612-824-9339, egunyo@msn.com or check the ROA website.

---
NEW
New Jersey
(South Jersey, PA & DE)
Marty Pinder #13619 Coordinator
---
NORTH CAROLINA REGION
Randall D. Crain #5360
2493 Banner Whitehead Rd.
Sophia, NC 27350
(336) 431-3854
ROA5360@aol.com
4th Annual ROA Southeastern  Regional
Asheboro, NC
May 15-17 2014, (Thursday – Saturday)
Come join us for some Southern hospitality, great cars and good friends. We'll be touring the North Carolina Aviation Museum and Hall of Fame along with a tour through the country side and the NC Pottery Center. And, then on Saturday, we will be having our car show with peer judging at Richard Petty's Museum! Yes, that is the 7-time Champion of NASCAR's museum. It should make for a great time and a very memorable weekend! Click here for a Schedule of events and registration form.
September 13, 2014, Saturday 10am- 2 pm, Ninth Annual "Rivieras at the Park". For details and directions, click here.
North Carolina Event Recap
September 14, 2013  "Eight Annual Rivieras at the Park".  The weather cooperated this year and  we had a clear sunny sky with a high temperature in the mid-70s. A perfect day for our gathering.   Seventeen Riviera owners, consisting of  ROA members, guests and a few non-members met at Creekside Park in Archdale. This year we had five of the eight generations in attendance, there were three '63s, one '64, one '65, one '66GS, two '72s, one '93, two '95s, and two '99s. We had the opportunity to socialize and share information about the different generations. We held a Q&A to assist those with questions they had about the repair and maintenance of their cars.
Once again Glen and Sandra Roberts drove 275 miles to attend our get together with their very nice 1963, which was awarded the "Most Original '63" at our national meet in Lexington. This year the group photo was taken with a 1964 owned by Rick Joy.
Charles Paschal posted a short video of the cars in attendance. To view the video go to http://www.youtube.com/watch?v=XUNkK3ZDfog
As always Gwyn and I would like to thank those that attended and made the gathering very successful. The reward for us is to enable members to gather and enjoy the day.  As usual, we hope to see you/others next year! Our plan is to hold the "Rivieras at the Park" the Saturday before the Charlotte Auto Fair which will make it the second or third Saturday of September.
---
NORTH ILLINOIS REGION
Warren Ramsey #2328
211 S. Pecatonica St.
Winnebago, IL 61088
(815) 335-2423
Northern Illinios Event Recap
September 22, 2013. Annual Brown Bag Picnic was held at the Starved Rock State Park in Utica,IL. Regional Coordinator Warren Ramsey meet with local members who drove their Riveras ranging from the mid sixties to the nineties.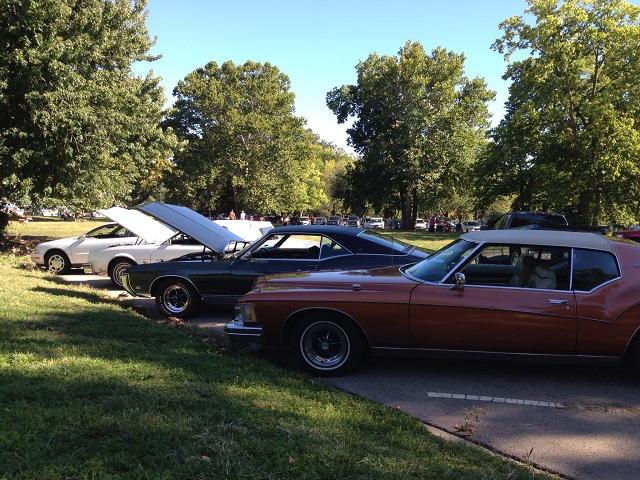 ---
NEW
OHIO & WESTERN PA REGION
John Farlin #13173
Akron, OH
rivierastage2@yahoo.com
April 26-27, 2014, Saturday, All Buick Show and Race day in Norwalk, Ohio. Peering judging on Saturday and racing on Sunday at Summit Motorsports Park.. Click here for the flyer.
August 3, 2014, Sunday, 1st Annual OH/PA Cruise-In. This non-judged event is open to only Rivieras 1963-99. The event will start in Tallmadge, OH and cars will convoy to Hermitage, PA, where they will meet up with members from PA. Following a social afternoon with food and conversation, the cars will convoy through the Avenue of 444 Flags. Pre-registration is required. Contact coordinator John Farlin at rivierastage2@yahoo.com, so he can keep you up to date on the details. Click here for Flyer(PDF).
North East Ohio Event Recap
September 15, 2013. The First ROA Gathering in this new region resulted in an impressive turnout of 24 Rivieras. The model years ranged from 1964 through '98. Of these, (2) '64s, (2) 67s, (14 boattails) (2) 1978 LXXV, (1) 82 convertible, (1) '85, (1) '92 and a '98. This non-judged gathering was held on a Sunday afternoon, in Fairlawn, next to Rockne's Pub, where members were able to enjoy good food and fellowship. Coordinator John Farlin is to be congratulated on his first event as the Ohio coordinator. Thanks also for the support of so many members, who made this gathering so successful.
---
NYC/LONG ISLAND REGION
Harold MecCabe ROA # 2569
74-25 64th St.
Glendale, NY 11385
(718) 366-3628

September 14, 2014, Sunday, 9am- 4 pm, Annual ROA Friendship Meet and Glendale Street Fair. The event as in previous years will be held at Fresh Pond Road and Myrtle Ave. in Glendale Queens. The street fair includes food, music and rides for children, no auto swap meet. Pre-registration of $10 by August 28th to receive a plaque. For more information and registration contact Harold at haroldmecacbe@msn.com or 718-366-3628.
Long Island Event Recap
September 15, 2013, Street Fair. Once again the fair turned out to be another great event, plenty of food and music and games for the kids. the street fair ran about close to a mile and a half. our special thanks goes to the ROA and the East Coast Car Assoc. for bringing out their cars. The weather was perfect, it was cool and sunny. There were a total of 23 classic cars, including three Rivieras.  Howard Attanasio brought his '63, Kenny Vasti brought his '65 GS, and I drove my 1979. ROA member Anthony Gatta brought his '65 Skylark GS convertible. Thousands enjoyed the event and the display of cars. We hope to see more ROA members next year.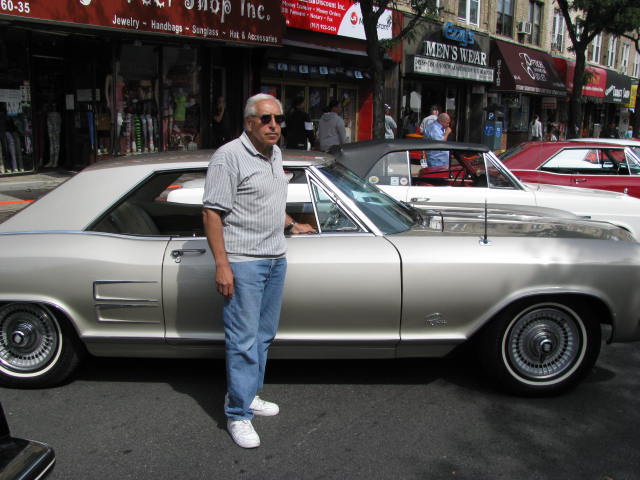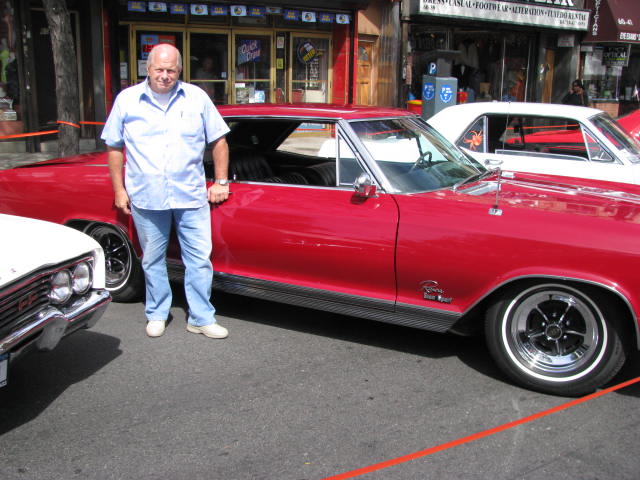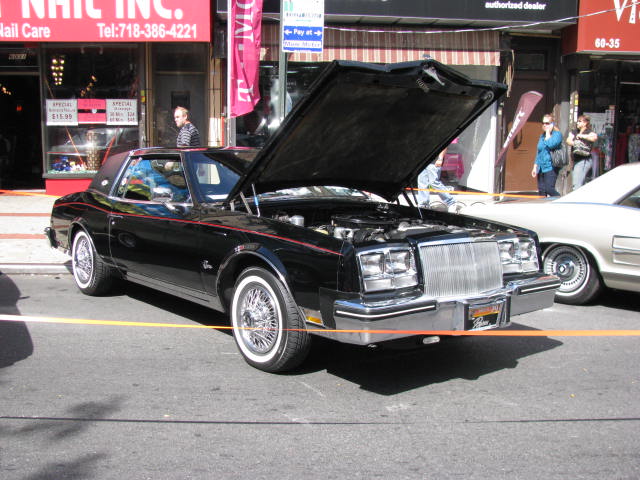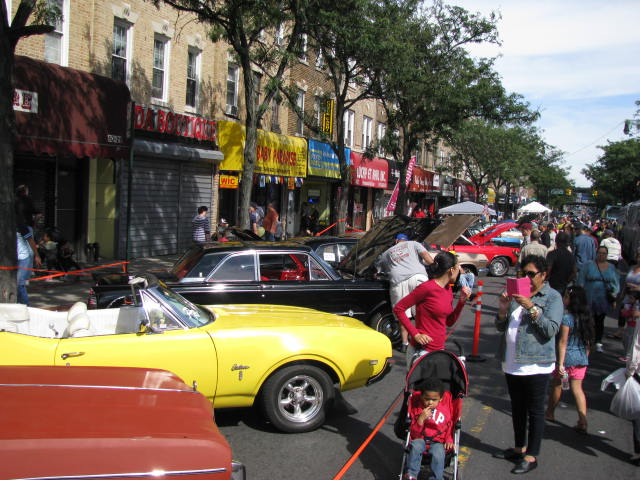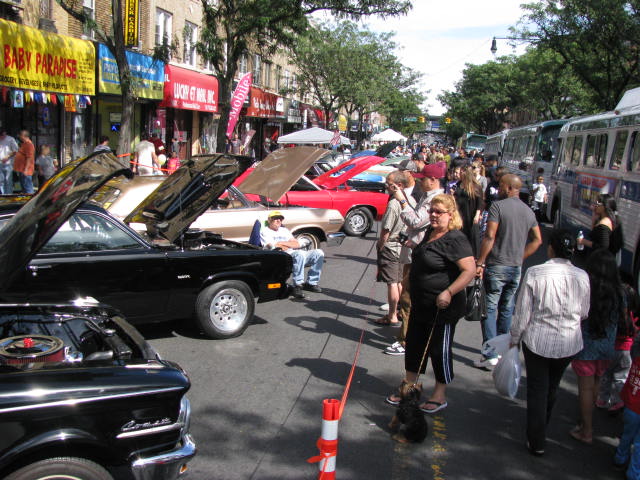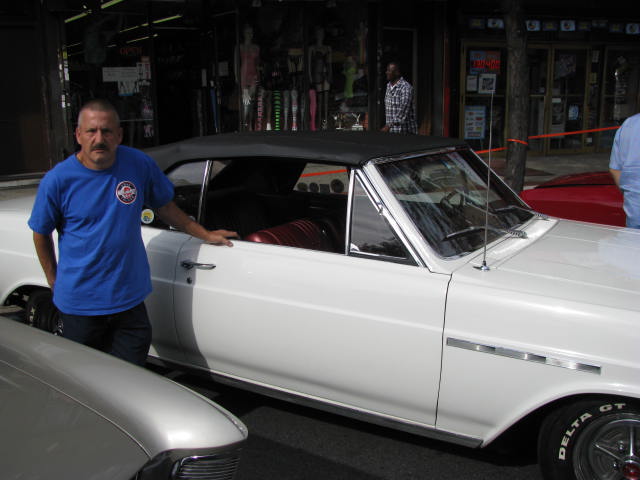 ---
OREGON REGION
Richard Smith #2082
7539 Lakeside Dr. N.E.
Salem, OR 97305
(503) 393-2187
Oreroa@yahoo.com

Oregon Event Recap
August 17, 2013, we had a strong turnout of Rivieras at the All Buick Show sponsored by the Portland BCA Chapter in Troutdale, OR. Of the sixty Buicks on display, eleven were Rivieras. Of the eleven nine were first generation (1963-65), a '74 and an '85.
---
SAN DIEGO, CA REGION
Lee Carroll #433
P. 0. Box 87923
San Diego, CA 92138
(619) 226-6993


March 23, 2014, Sunday, 1:00 pm. Join us for a tour of the Water Conservation Garden in El Cajon. The garden can be a learning laboratory for the dedicated gardener, a place for a delightful afternoon stroll & a place to gather a lot of valuable information on water wise California friendly gardening. The multi-acre exhibits will show you numerous ways to save water while creating an attractive and relatively trouble free landscape. You'll get new ideas for turf, cactus, ground covers, container plants, vegetables & fruit trees plus other worth while tips about what grows best in San Diego. The event starts at 1 pm & it will take about an hour & a half to complete.
There are dozens of nearby restaurants & we'll list suggestions for a late-light lunch. The Water Conservation Garden is located at 12122 Cuyamaca College Drive West, El Cajon . Everyone in the region was mailed a flyer, but if you didn't receive one or need directions contact Lee Carroll at 619-226-6993 or karalis@cox.net.
April 26, 2014, Saturday, 12 noon. Join us for a visit to the Heritage of the Americas Museum located on the campus of Cuyamaca College in El Cajon. The Museum offers much more than American Indian artifacts. Their exhibits range from fossils & meteorites to prehistoric weapons, & sabre tooth tiger skulls. Among the highlights are Indian textiles & paintings, a five-foot Chinese model of a dragon ship made of jade & a jade burial suit with more than 2.000 pieces that were sewn together with gold & silver threads. Alaskan crafts & prehistoric weapons from that region are also on display. The areas featuring American Indians shows weapons, war bonnets & jewelry made by Apaches, Hopis, Navajos & Yaquis. There's even a 50 million year old bee encased in a ball of amber that was found in Costa Rica. A flyer with details will be sent to all local paid up ROA Members three weeks prior to the event.
San Diego Event Recap
February 21-23, 2014, ROA made its presence known at the 48th Annual Big 3 Swap meet held at Qualcomm Stadium in San Diego. The annual meet held on the 40-acre stadium parking lot drew over 2,400 vendors & hundreds of car club participants displaying a wide variety of cars & trucks. We were blessed with 3 days of great weather and large crowds.
The four Rivieras on display drew a lot of attention. We were able to meet many interested people and were able to give advice on repairs & restorations. ROA member Fred Young provided us with a hospitality tent, tables, chairs & refreshments. During the weekend, we handed out numerous membership applications, parts catalogues and gave a lot of practical advice on the owning and care of their cars.
Ken Lund drove his '71 boattail 150 miles from Yucaipa. Jim Kelso brought his modified '69, while. Bob Starkey brought his one owner '67. Lee Carroll displayed her one owner original 1963 Silver Cloud. All four of these cars were driven to Monterey for the 2012 ROA International Meet.
October 13, 2013, Twenty one members of the ROA and BCA spent a pleasant Sunday looking at more than 500 years of  San Diego history at a unique reconstruction project. The San Diego Maritime Museum is building a replica of the Spanish Galleon that was the flagship of Juan Rodriguez Cabrillo who in 1542 was the 1st European to discover what is now San Diego.
The original San Salvador was 92 feet long & 24 feet across in its widest area. It carried a crew of 16 seamen, a navigator, a priest, a doctor, the captain and 12 soldiers. The ship is being built without blue prints and are making some modifications. The cross bracing is one example, as ships built in the 16th century did not have cross bracing & as a result few of them lasted more than 5 to 10 years. Since no nails or screws are being used  holes are drilled so that wooden pegs can be pounded into place.
This is a model of the San Salvador showing what the finished ship will look like.
---
SOUTH AFRICA REGION
Chris Palk ROA#10373
PO Box 1333
Krugersdorp 1740 South Africa
2711-660-1322 (office)
2782-808-3360 (cell)
c_palk@uskonet.com
---
TENNESSEE REGION
Larry Lovell #11001
2155 Pewter Drive
Knoxville, TN 37909
(865) 690-7421
llovell100@yahoo.com
4th Annual ROA Southeastern  Regional
Asheboro, NC
May 15-17 2014, (Thursday – Saturday)
Come join us for some Southern hospitality, great cars and good friends. We'll be touring the North Carolina Aviation Museum and Hall of Fame along with a tour through the country side and the NC Pottery Center. And, then on Saturday, we will be having our car show with peer judging at Richard Petty's Museum! Yes, that is the 7-time Champion of NASCAR's museum. It should make for a great time and a very memorable weekend! Click here for a Schedule of events and registration form.
Tennessee Event Recap
October 12, 2013, ROA members met for a tour of the Corvette Museum in Bowling Green, KY. We had a great time. Jimmy and Debbie Hamilton showed up in their Maroon 66. Chip Ackerman was there in his 99 Silver Arrow. Boyd and Steven Barker were there in their Black 76. Jerry and Rose Marie Roberts had their Beige 71 Boat tail, and Larry Lovell with his modified 65. The weather was perfect. The museum was very nice and they treated us well. They had Corvettes of every vintage including the new 2014 model. I would encourage anyone to go. Thanks to all who supported the event.
---
Ventura / Santa Barbara Counties
Lee Pickett # 10039
900 Calle Plano unit E.
Camarillo, CA. 93012.
805- 807-9592
leroy1492@gmail.com
Cruise Nites, First Saturday of the Month, 4pm- 7pm at the Islands Restaurant 935 Broadbeck Drive, Newbury Park. Hope to see you there!
Ventura Event Recap
November 30, 2013 – We were all invited to the home of member David Contreras to see and talk about the ongoing restoration of his '65.. Seven members and friends showed up to see what David has done. Members Don Miller and Robert Valenzuela as well as a visiting member Bill and his dad Anthony. Bill is from Long Island New York. Soon to be member Javier showed up with his nice 63. David was a great host and speaker he explained all the things he has done and the things he is planning to do to his Riviera. We also spent some time going thru the 30 year collection of the Riview that member Dan Gregg and his dad collected and entrusted to me. The weather was perfect. Thanks to those who attended, we hope to see more members the nest time we meet.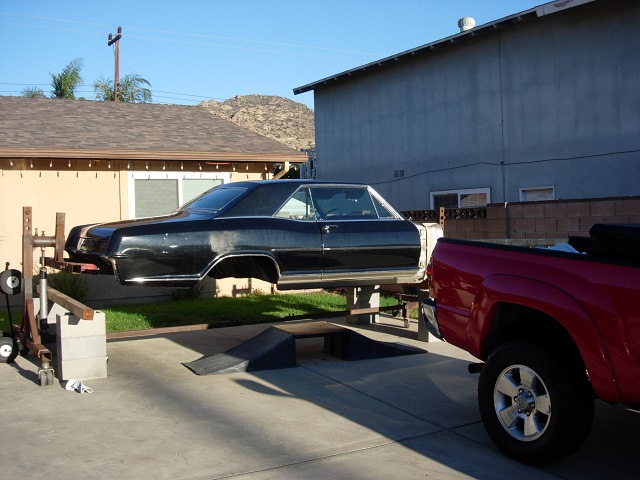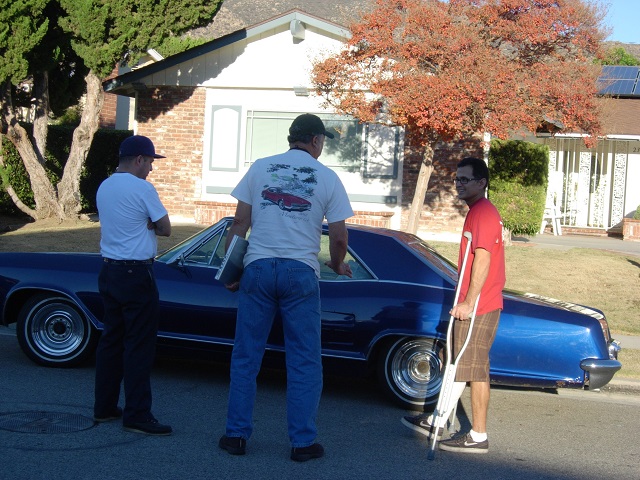 July 19, 2013,  ROA Brake Tour, We had six ROA members and friends join us for a tour of the Wilwood Engineering & Brake Company. In Camarillo. The tour of the 100,000 sq ft plant took one and a half hours. Our guide Dustin Burr  was extremely informative and quite humorous in explaining all about the brake industry.  I'm sorry more members were unable to attend. If they did they would have learned why Wilwood is "Number One" in brakes.
January 26 2013, We held our first Car Clinic hosted by senior mechanic James Coda. The topics started with AC upgrades and it turned into a question and answer session. Robert Valenzuela drove his nice all original 65, and long time member Steve Steuer was able to attend.
Special thanks to our guest and speaker James Cota he was awesome. I will be holding another clinic in the spring. Hope you can join us.
---
WASHINGTON REGION
John Andreassen # 1781
5442-A Schoth Rd. S. W.
Turnwater, WA 98512
360-754-3745 (Home)
360-481-3325 (Cell)
norseman63@comcast.net

---
June 21, 2014, Saturday, 21st Annual Buick Open, sponsored by the Puget Sound Chapter of the BCA. 115 2nd Ave SE , Puyallup. This is a great event for the whole family; it coincides with the Meeker Days Festival. All Riv's park together! For registration information or any other questions, you can contact Lee Davis at 253.815.1094 or @ lee_martha@q.com or John Andreassen @ 360.754.3745 or @ norseman63@comcast.net
June 24-27, 2012, Tuesday - Friday Convoy with us to the ROA Annual Meet in Colorado Springs, CO. Join us for the 30th Anniversary, right where it started in 1984. ATTENTION WA, OR, ID residents, we are planning a convoy down, starting on the 22nd. Departure will be from the Maytown Rest Area off of I-5 just south of Olympia. Contact me for detailed information or itinerary. We would love to have you meet up with us & all ride in together. You can visit the website for registration details. www.rivowners.org
July 23-26, 2014, Wednesday – Saturday, BCA Nationals in Portland, OR. Many Washington ROA Members will be in attendance. Come join us & the other BCA chapters at this 4 day event. Lots of activities for all to enjoy or just join the show! You can visit http://buickclub.org/2014 for more information or registration forms.
September 6, 2014, Saturday, 14th Annual ROA Fall Potluck held at Brian & Ellen O'Neil's on Whidbey Island. This has always been such a great way to close summer events. No registrations fees. Bring a dish to share & enjoy the closing awards. All makes & models are welcome. We will have deep fried turkeys, fresh steamed oysters & an assortment of beverages. Please contact John for additional information.
Washington Event Recap
Sept 7, 2013,  13th Annual ROA Pot Luck, was held at the home of Brian & Ellen O'Neil on Whidbey Island.  We had a great day with 10 Rivieras & 9 Buicks. Long distance award went to a beautiful 71 Riv from Gibsons, BC Canada, owned by Brian & Jennifer Schuppert. Best Riviera award went to Keith & Jeanette Bingham for their white '65. Our Regional Coordinator John Andreassen was presented the "Anchor/Norseman" award on behalf of ROA members for his 25 years of dedication to the Washington chapter of the ROA.
June 22, 2013 Twenty Six Rivieras filled the show field at the, 20th Annual Buick Open, sponsored by the Puget Sound Chapter of the BCA., held  in SE, Puyallup. This event coincides with the Meeker Days Festival. It was a great time for all who attended.
---
Rhinebeck, NY

40th Annual Show & Swap meet
May 4, 2014, Sunday, 8:00am – 5:00pm, "Rhinebeck 2014", 40th Annual car show and swap meet hosted by the Hudson Valley Antique Auto Association. The Upstate NY chapter of BCA chapter will have a separate non-judged "Buick Only class" and invites ROA members to join with them. Registration is $10, day of show $15. For more information contact BCA chapter president Jim Jakubiak, 518-459-1136 or visit www.unybca.com. For information on the event go to www.rhinebeckcarshow.com
---
Albany, NY
Car Show
June 14,2014, Saturday, 3:00pm – 8:00pm ; "Cruise In To Summer 6" ,presented by the Upstate NY Chapter of the BCA , to be held at Goldstein Buick/GMC 1671 Central Ave, Albany.. This is a fund raising event to benefit local "Boys & Girls Club" , open to all makes & models cars, trucks ,etc. Food by Dinosaur BBQ ,cake by Coccadots and ice cream . The first 100 vehicles making a minimum $5 donation will receive $10 in food coupons. For further information visit www.unybca.com or contact Jim Jakubiak ROA 11083, junglejim810@aol.com or 518-459-1136
---
Portland OR
July 23-26
BCA Nationals
July 23-26, 2014, Wednesday – Saturday, Buick Club of America Nationals. Many ROA Members will be in attendance, along with their Rivieras and other Buicks from all over the US. There will be many vendors, as well as activities for all to enjoy or just come to see the show. For additional information and a registration form visit http://buickclub.org/2014.
---
Abingdon, Maryland
28th Annual All Buick Show
September 28, 2014, Sunday, The Buick Owners of Maryland invite ROA members to their annual all Buick show to be located at Boyle Buick-GMC, 3015 Emmorton Road, Abingdon, Maryland. All Rivieras, including custom and modified, are welcome. Advance registration is $12/car until September 1, $15/car thereafter. The gates will open at 9:30AM, judging begins at noon, and awards will be presented at 2:30 PM. For information and registration forms please contact Raymond Price, 410- 666-3905, rsprice2@netzero.net, or Hank Reus Jr. 410-499-6196, dankerus@comcast.net
Visit www.bcaboom.org for registration, information and downloads.

---
Have you contacted your Regional coordinator recently? Now is a good time! They may need help or encouragement to get local activities planned.