Club Logo
The ROA Club logo is the property of the Riviera Owners Association. The logo is our adaption of two early Riviera logos that have been combined and created especially for and by ROA. The use of the Riviera script has been approved by the GM Legal department for our use. The logo is also protected by copyright. No products can be sold which use our logo without prior approval by ROA.
---
NEW!
"Classic Luxury"
T-Shirt
Move your mouse over the image to see the design in detail!
Hi-quality soft and cool "Heather blend" T-shirt in Charcoal with a multi-color 3 car design on back and small ROA logo on front.  Available in sizes S-XL $19, XXL – XXXL $21, plus $6 S&H per item.
---
Golf Shirts
Two new colors to choose from: a Sunflower Yellow and Charcoal Heater. They are breathable 65/35 blend with a knit collar and cuffs, and an embroidered ROA logo on the front. Sizes S-XL $21, plus $6 S&H per item.
---
Window Decals
Additional static-cling ROA window decals are available for $2 (S&H included).
---
Name Badge

The badge is engraved with your name and the ROA logo on a 2" by 3" silver plastic plaque with a safety catch. Please print your name as you would like it to appear. $7.00, plus $3 for S&H.
---
Key Fobs

Oval ROA emblems on top grain black leather backing. $7, S&H $2.
---
Ball Caps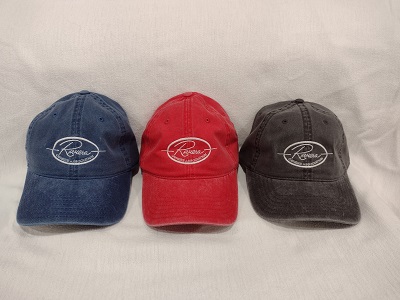 High-quality cotton caps with an embroidered ROA logo and Velcro strap. Available in white, dark blue, khaki, forest green and a NEW charcoal gray. $14, plus $6 S&H.
---
Embossed Plate

A heavy aluminum license plate with a silver logo on a black background. Great for shows! $6, S&H $6.
---
License Plate Frames
Dress up your state-issued license plates with our official ROA chrome-plated metal frames. The frames are embossed with "Riviera Owners Association" and a club logo in black. These frames are perfect for those members who can't use our club plate on the front of their car. $14.00 each & $6 S+H (U.S. and Canada).
---
Back Issues
Due to a recent clearance sale, most back issues have sold out. However, most issues from Vol. #23-1 (Jan/Feb 2007) to present are still available. Due to limited supply contact the office for availability. The cost is $3 per issue in the U.S., $6 outside the U.S. Available to current members only.