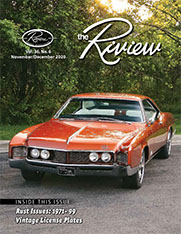 The Nov/Dec Riview
Available for viewing by members
Includes:
Final article on Rust issues covering 1971-99
Vintage License Plates
Non-members - Click here to view the rear cover and Table of Content
PAST RIVIEWS ONLINE
35 years of the Riview, can now be viewed.
Under " Members Only" click "Past Riviews"
ROA International Meet 2020

Kalamazoo, MI

CANCELLED

due to COVID-19
IN THE NEWS
INDEX UPDATED
The index of all past articles, tips and showcases has been updated to include volume 35 Jan-Dec 2019 Under "Members Only" click "Index of Articles"
Jay Leno's Garage.
Jay Leno and comedian Bill Burr enjoy a ride in a 1965 Gran Sport in this YouTube video. This beautiful Sahara Mist '65 with a deluxe back interior and wood steering wheel appeared on this CNBC show on October 14, 2020. Click here to view.
Bill Burr, Jay Leno, And A 1965 Buick Riviera GS | Jay Leno's Garage
The Hemmings Muscle Machine daily newsletter recently posted a video of a custom '63 Riviera that you may enjoy. The video takes you through the many modifications resulting in a sleek, boattail with flowing lines. It may not suit everyone's taste, but the fine workmanship cannot be ignored.
Buick Bugle
Augustl 2020


A 1998 V-8 protype Riviera appeared in the August issue of the Buick Bugle, published by the Buick Club of America (BCA). GM engineers installed a Cadillac Northstar V-8 in a Riviera to convince GM executives that the Riviera should share V-8. But the executives didn't agree, and the project was scrapped. Fortunately, the car was saved. This car was also featured in the May 2016 Riview, Vol. 32 #3, which members can view on this website.
Paypal and Secure Credit Card Payments for Renewals and New Members now online!