Each year we try to find a new an interesting place to hold our meets. Places that would be an attraction for the entire family. We couldn't have selected a better place than the picturesque coastal town of Monterey.  Our host hotel was the historic Casa Munras located in the heart of town with private parking secluded from the nearby restaurants and shopping.  The famous Old Fisherman's wharf was within walking distance as was historic Cannary Row and the Monterey Aquarium.   Just down the road were Pebble Beach and the famous 17 Mile Drive that winds around the coast and through the well known golf courses.
Truly an International meet as we had four couples from Australia  along with members from Canada, and 16 states throughout the US.  Our long distance awards went to a member who drove over 5,000 miles from Nova Scotia in a '99 and another who  drove over 3,000 in a '65  from Michigan  (separate award for long distance in a Riviera 35 years or older).
Our weekly activities were much like previous years with a large hospitality room that remained open all week. And as always refreshments were complimentary for our registered guests, including ice tea, beer, snacks and evening hor d'oeuvres. Our vendors are set up in the same room, where we hold our Technical Q&A, annual meeting, trivia and door prizes
This year we broke tradition and closed the hospitality room on Wednesday afternoon, when convoys of members left for the drive through Pebble Beach and 17 Mile Drive.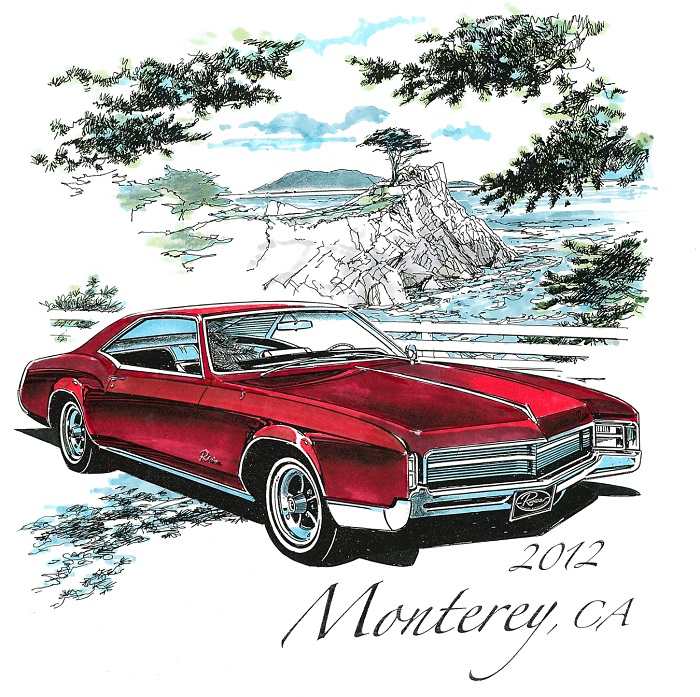 At Thursday's show we had a total of 72 cars including 61 Rivieras, five Toronados and six returning award winners in the Winner's Circle. We had a total of 185 members and guests.  We know that ROA is blessed with the friendliest people in the hobby who make these events possible and come to share their treasured cars for us all to see.
For years we've said that the first time you attend an ROA meet it's for the cars. The second time it's for the people. The best quote I heard at this year's meet was by Jason Zerbini, who accompanied by his wife Rhonda said "I quit telling people prior to the trip that we were going to a car show. I just say it's a "family reunion".
Hope to see you at next year's "Family Reunion."