For 1982, the Riviera experienced several major changes. To begin with, the first overdrive transmission appeared. The reduction in engine RPM at highway speeds made for smoother touring, as well as improved engine durability. The overdrive was standard with all engines, which included the 251 c.i. V-6, and the optional 307 c.i. V-8, 350 c.i. diesel V-8, and the Turbocharged 231 c.i V-6 engines. The most popular choice of engines among Riviera buyers was the 307 gas engine, installed in almost three-fourths of the 1982 Rivieras. The two V-6 engines accounted for 16.6%, and the diesel sales dropped to almost half of the previous year's sales, to 4,363 units, only 9.9% of production.
| | |
| --- | --- |
| 5.0L V-8 (Distributor at Rear of Engine) | 4.1L V-6 (Distributor at Front of Engine) |
Another dramatic change in 1982 was the introduction of the first Riviera convertible. Accompanying the new Riviera convertible was a dramatic increase in price. The standard Riviera base price was $14,272, with 14,940 for the T-Type. The new soft top car came in at $23,944. The Riviera body style was a perfect design for the convertible top, with it retaining its formal roofline and luxurious appeal. Riviera convertibles have become very desirable, and are often seen in parades and on the car show fields. Color choices brought back memories of Henry Ford, as you could purchase the new Riviera convertible in the color of your choice, provided it was either Firemist Red or White. Also, red was the only available interior color of the convertible.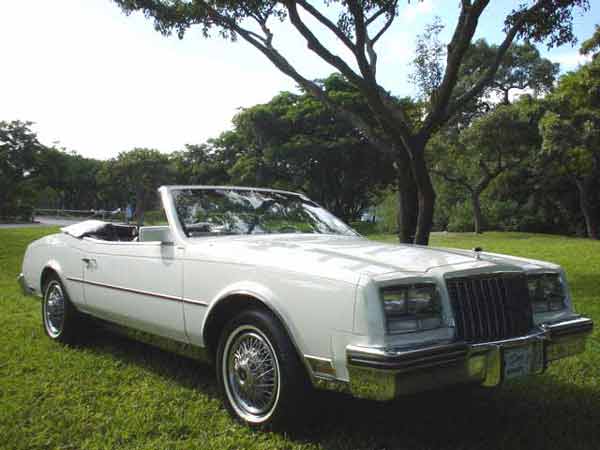 White with Red Interior
A Grand Touring suspension package was included on the T-Type, and optional on the standard model. Engine performance had not changed, as all horsepower ratings were the same as the 1981 model year. A new padded steering wheel was introduced, as well as a more convenient multi-function switch for headlamps, turn signals, cruise control, and wiper washer functions. A memory driver's seat was also available for the new Riviera, adding to the luxury features that were becoming more and more commonplace in the Riviera lineup. 44,070 of the 1982 Rivieras were sold, down from the 52,007 sold in the previous year - still respectable sales for an expensive personal luxury automobile.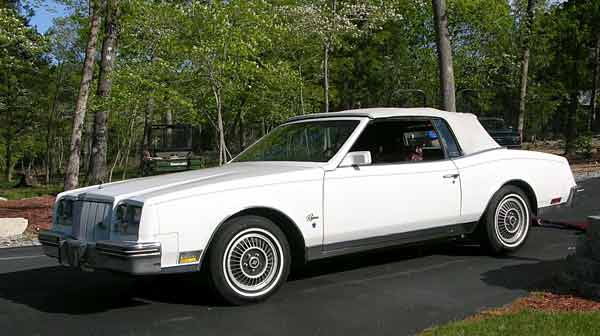 With roof up, the Riviera Convertible retains the formal roof line
As with previous years, refinement has always been a Riviera tradition. Making the car more enjoyable to drive, more luxurious, and more dramatic in appearance has been an evolutionary process for the Riviera. With each model year, it just keeps improving and becoming more refined, without forgetting where its roots are.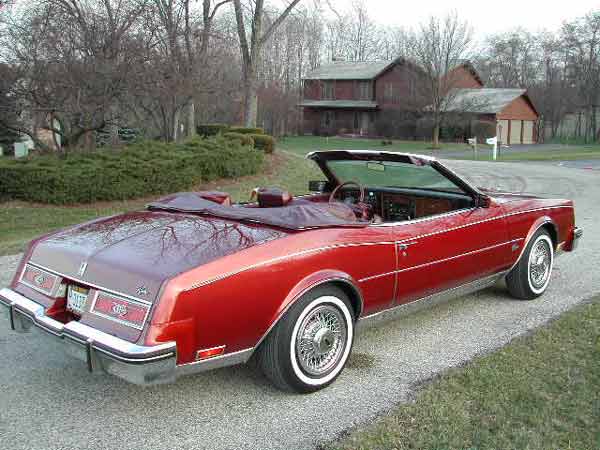 The Convertible is still attractive from any angle (Firemist Red Shown)

The convertible's interior was available in Red Leather only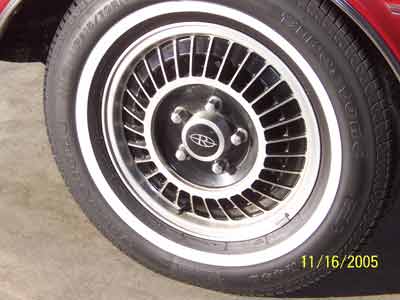 Optional T-Type Wheel