After an all-new design in 1986, it would appear that there were few changes left for the 1987 version of the Riviera. That was not the case, as refinement would be what engi­neers at Buick spent their time on during the previous year. First, engineers were busy making the new engine one of the most advanced overhead valve engines in the world. Roller type lifters were now incorporated into the 3.8 liter sequential-port fuel injected V-6. This added reliability, reduced friction and improved wear characteristics. Assistance in the fuel management system was provided by Bosch of Germany, who was the world leader in fuel injec­tion systems and design. Also to improve the luxuriousness of the Riviera, there was a new hydraulic engine mount being used that better absorbed vibration and kept it from reaching the passenger compartment of the car. Not only did this assist in the feel of the car but removed vibrations made the rest of the car quieter and lessened the effect of vibration on other components.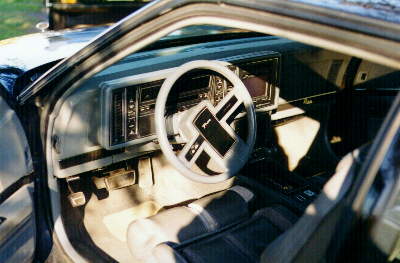 T-Type Interior carried over from 1986
Other improvements included the Graphic Control Center being enhanced with upgrades such as low travel touch switches that provided a better feel than those previously used. Oil pressure was now being monitored as was wind­shield washer fluid levels. An ambient light sensor was added to aid in viewing the screen during the day when the headlights were on. A trip monitor display was also added to assist in trip progress. Other new inclusions were: a front seat upgrade (in knit velour or leather), reversible non-slip floor mats, and a passenger assist strap above the door.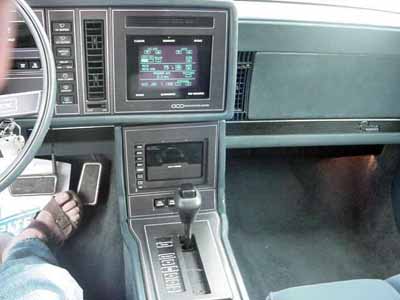 Upgraded touch screen dash
The T-Type returned with a new two-tone paint scheme, with the lower panels being painted silver, and the upper in the selected body color which included several new metallic colors. Standard on the T-Type was a performance oriented 2.97 final drive ratio, 215/60R-15 Goodyear Eagle GT black-wall tires on aluminum wheels, and a leather wrapped steer­ing wheel and shifter.
Other standard features included amber park / turn signal lenses and fast ratio power steer­ing. The unique Power Comfort seats introduced last year and designed with drivers' needs in mind included an almost limitless range of adjustments. An upgraded level 3 suspension package was also included when the T-Type option was chosen.
Sales dropped for the 1987 model year despite the improve­ments made to the Riviera. A total of 15,223 1987 model year Rivieras were built, which included 2,587 T-Types. There were over 500 more T-Types built this year than in 1986. Price started at $20,337, up slightly over last years base price of $19,831. Always high in owner selected options, the Riviera could be ordered with the Bose stereo system, a theft deterrent system with starter interrupt. Power Astro Roof, a cellular phone accommodation package and convenience items such as power door locks, power trunk pull down, and drivers heated rear-view mirror. Available exterior colors were white, dark gray metallic, light blue metallic, light brown metallic, dark red metallic, red metallic, dark brown firemist, silver metallic, black metallic, dark blue metallic, tan, medium blue firemist, light rose­wood metallic, and medium rosewood metallic, which allowed a wonderful selection to personalize your Riviera when ordered.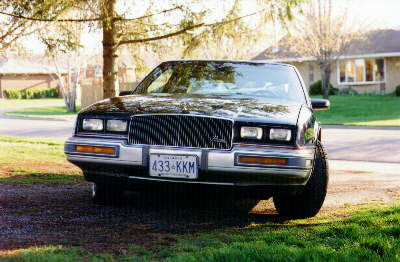 Unique front styling
Though not setting sales records, the 1987 Riviera was still a driver-oriented automobile. Unique in it's own way, but undoubtedly a Riviera. Progression, evolution, and a trend­setter — as had been its predecessors. The new Riviera would still make any owner smile when he settled in behind the wheel and advanced instrumentation. This was a car for those who enjoyed driving long distances, winding back roads, and being able to arrive at their destination as refreshed as when their trip started — perhaps even already anticipating the ride home!

Rear angle shows the bobbed trunk styling.